XR in education
What are the possibilities, opportunities, applications, challenges and obstacles of eXtended Reality for education? Who are engaged in this? Where are we now and where are we going? Read about it in the issue XR in education.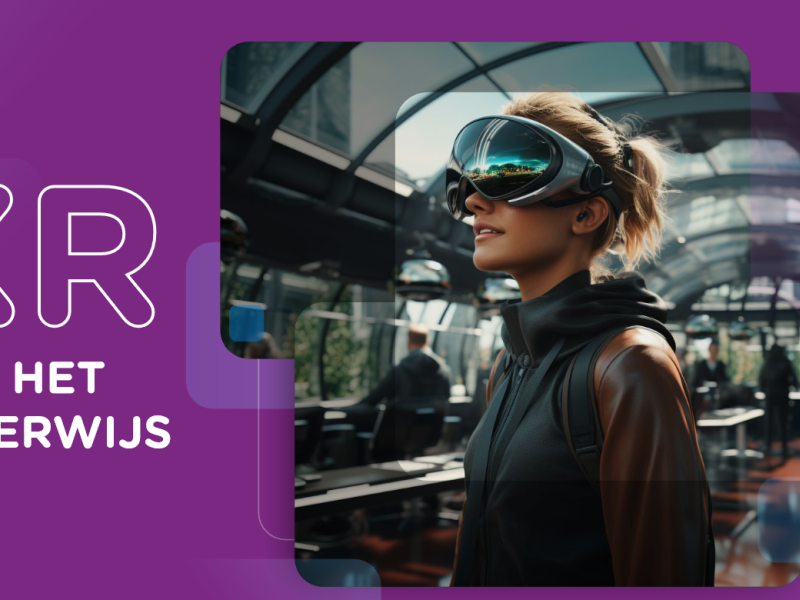 3D animal testing, mixed reality and a VR headset on the checklist
XR is increasingly penetrating education and is definitely here to stay. But what exactly does the future look like in this field? We took a 'glass-ball tour' of the interviewees about their hopes, wishes and expectations.
"The future is also about much more."
According to Gert-Jan Verheij (RUG), the challenges for XR in the future are diverse. Technology plays a big role in this but it is subservient. "First of all, you need to have enough people and expertise in-house to develop, use, manage, keep up-to-date and secure your applications." Content-wise, Verheij sees 3D animation booming. "It offers many opportunities for learning, research and practice. For example, using digital 3D experimental animals instead of real ones, or uncovering archaeological finds. At the RUG, we now have a theatre with a 3D screen that can hold 19 people at the same time."
"VR and AR in one device is becoming a very strong combination for training."
New relationship
Harry Bitter (WUR) sees a steady rise of XR in education. "The safe practice opportunity and the decrease in fear of the real lab show that you can start working more efficiently with XR. You probably need less real lab time and a new ratio between a real and virtual lab is emerging. That ratio also applies to the different functions needed for the real and virtual lab. You have to look at this together across institutions as well. This is how we help technology and each other move forward."
Not laying down everything
Gül Akcaova (SURF) welcomes the fact that Europe is making metres in terms of legislation and regulations. "But we should not want to regulate and lay down everything, because we also just need Big Tech. It will therefore be quite a challenge to find out what is and is not allowed when, for example, Apple launches new services and products on the European market. We talk a lot about this with colleagues throughout Europe. We really need to keep looking at that future perspective together."
Added value
Esther van der Linde's (SURF) future perspective includes the growing number of applications and uses in the XR field. According to her, it is important to keep a close eye on whether a new app to be developed is more than 'just fun' and has real added value for education. "And you also need to increasingly see that added value in relation to the professions students will later pursue. Does everything fit together well?"
"A leasing system for glasses and one app library for all settings."
VR cases
For Giny Verschoor (Police Academy), a lot is already in the pipeline for this year. "In addition to basic police education, we are also going to focus on secondary education, including forensic investigation. And we are going to set up VR cases at every police station, where second-year students will get their hands-on experience." Verschoor thinks Mixed Reality is going to take off and is curious about the latest generation of VR glasses that can switch between the virtual and real world. "For the future, I also hope that our students will be able to log into their glasses and track their progress and save it in their portfolio."
One app library
Maurice Magneé (HAN) also hopes the latter. "It would also be nice if testing becomes possible in the VR environment in the future. That way VR really becomes part of education and more than a practice tool." Astrid Timman (HAN) agrees. "My ideal is for the VR glasses to become a permanent part of the book list. In addition, a leasing system for glasses would be great and one app library for all institutions."
Playfulness
Arno Freeke (TU Delft) thinks VR can be run from the cloud in the future and teachers will be more in control with multiplayer experiences. "And the future is also about a lot more. A lot more glasses, a lot more applications and a lot more adoption within education." Freeke sees his future extremely bright anyway. "I am always working on the newest of the latest, no day is the same and there is also a lot of playfulness. How nice is that?"
Clear agreements
Akcaova is curious about the future regarding the Metaverse. "How do we want to relate to it and what does it mean for the students, also socially. In the Metaverse, for example, there is no government so who ultimately determines what can and cannot be done. Very clear agreements need to be made about that."
Combining VR and AR
Thomas Ginn sees the merging of VR and AR in one device as a great leap forward. And not just for training. "Being able to spontaneously step in and out of immersive experiences makes it easy to keep in touch with the real world. For example, students can keep a headset on for longer periods of time because the AR capabilities allow them to see each other and communicate. Then they can step right into a VR experience and 'be off-world' for a while, because the device also offers that capability." Ginn also expects the big tech companies to keep buying up innovations. "Hopefully there will be enough alternatives to that from the open source corner," he says.
"We shouldn't want to regulate and capture everything because we need Big Tech too."
Connected to each other
According to Paul Melis and Casper van Leeuwen (SURF), the challenges for the future include standardisation, management and content. "The latter still takes quite a lot of time and money. We expect that AI can speed this up considerably in the future." They also expect that in time, different applications will be able to be connected to each other and devices will increasingly move in the same direction. And they hope it will all get a bit easier. "In terms of devices, at the moment it is still regularly quite a hassle connecting, logging in and (re)starting."
World peace
As far as John Walker (SURF) is concerned, the emergence of technical solutions and virtual worlds is inevitable. "We now know that in the virtual world you can do certain things faster, cheaper and more efficiently. The important question is whether it is also better than in the real world. XR is very nice but it is not a panacea. World peace is not going to happen in the Metaverse."
Scenarios with ChatGPT
Another interesting future prospect is the combination of XR with other technologies such as AI, Digital Twins and Internet of Things. Van der Linde wonders what this means for education. "For example, suppose scenarios in XR are increasingly created with an AI chatbot like ChatGpt. That sounds very nice but what effect does it have on a student when they have an artificial person facing them? We don't know that yet but that's what we need to investigate."
Best of both worlds
For those worried about the advance of XR in education, Bitter has another reassuring message. "A virtual lab is never going to completely replace a real lab. Nor should you want it to because a real lab remains unique. Because of the smells, the atmosphere, the people, the sounds of talking, laughing and the radio. You'll never get all that in an app. With the combination of a real and a virtual lab, you get the best of both worlds."