Acceleration plan for educational innovation with IT
The Netherlands Association of Universities, the Netherlands Association of Universities of Applied Sciences and SURF jointly present a four-year acceleration plan for educational innovation with IT.
Opportunities for higher education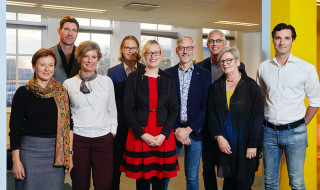 Digitalisation offers a great deal of opportunity for higher education in the Netherlands. It can contribute to the quality of education and strengthen the international position of higher education. The Acceleration Plan is based on 3 shared ambitions:
Better connection to the job market
Making education more flexible
Learn smarter and better by using technology
8 acceleration zones
The Acceleration Plan is divided into 8 acceleration zones in which 40 research universities and universities of applied sciences work together. A leader from one of the institutions directs the acceleration team with its representatives from the participating institutions.
In this video the leaders present themselves: