Our Long-Term Agenda sets out our strategic ambitions, themes and targets for 4 years. Digitalisation and internationalisation are offering more opportunities, but at the same time they are making the technical, social and ethical issues more complex. Close collaboration between SURF and its members is the best strategy for dealing with this.
Long-Term Agenda for 2019-2022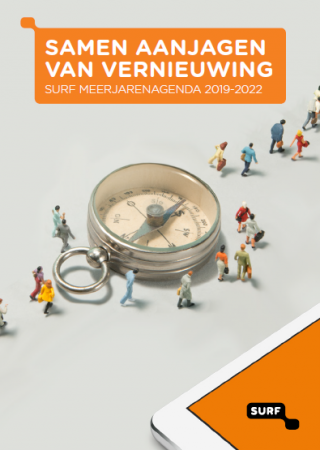 SURF has set out its ambitions and plans for the period 2019-2022 in the SURF Long-Term Agenda for 2019 - 2022 (PDF).
A special edition of SURF Magazine (PDF) is entirely devoted to the Long-Term Agenda for 2019-2022 and provides a practical translation of the topics of the Long-Term Agenda.
Clear roles and responsibilities
At the end of 2019, new arrangements were made on how the Long-Term Agendas and 2-Year Plans are created. As a result of this, SURF members are closely involved in the strategic direction the cooperative is taking. The Long-Term Agenda clearly sets out the roles and responsibilities of the members, the SURF Board, the Coordinating SURF Contacts (CSCs) and the Scientific Technical Council (WTR):
The members set their content and financial priorities for each sector themselves. These priorities are used as input for the Long-Term Agendas and 2-Year Plans.
The SURF Board draws up the Long-Term Agendas and 2-Year Plans and ensures that the 2 plans are consistent and that the sectors cooperate. The SURF Board acts as a bridge between the sectors. It makes sure that the topics that would benefit from cooperation get the attention they deserve in the Long-Term Agenda and 2-Year Plans.
The Coordinating SURF Contacts advise the Board on the coherence between the sectors' priorities and the opportunities for cooperation.
The Scientific Technical Council advises the Board and the Members' Council on the level of innovation in the Long-Term Agendas and 2-Year Plans.
2-Year Plan for 2021-2022: members set their own priorities
For the 2-Year Plan for 2021-2022, the members will work according to the new agreements for the first time and will set their priorities for each sector. Based on these sector priorities and the priorities to be set by SURF itself, we will jointly draw up a 2-Year Plan for 2021-2022 as a concrete development of the SURF Long-Term Agenda for 2019-2022.
This will involve the members more in SURF's strategic direction. It will also make clear where the similarities and differences are between sectors.
Sectors or departments
SURF serves 5 sectors: research universities (WO), universities of applied sciences (HBO), secondary vocational educational institutions (MBO), university medical centres (UMCs) and research. The other members' section is also represented on the Members' Council. To set priorities, research and other members are working together as Research+, although this is not a sector in a formal sense.