Acceleration plan for educational innovation with ICT
The Netherlands Association of Universities, the Netherlands Association of Universities of Applied Sciences and SURF jointly present a four-year acceleration plan for educational innovation with ICT.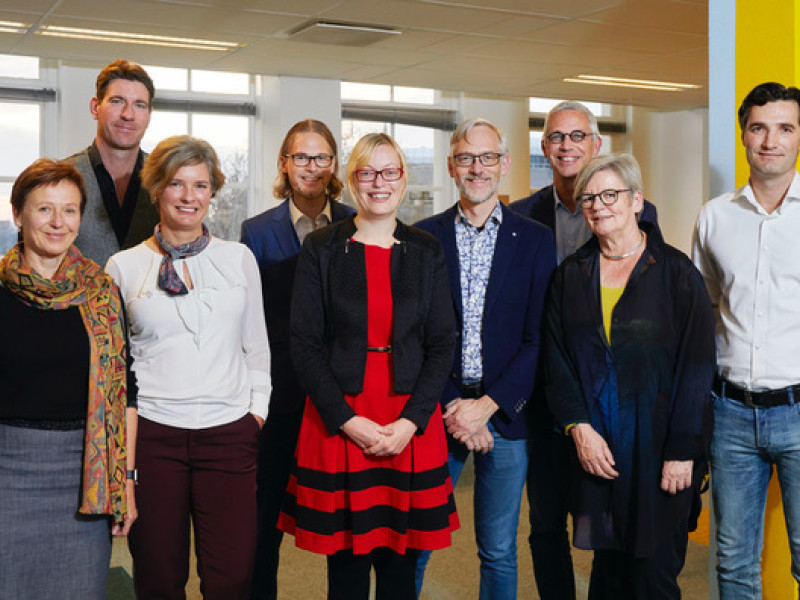 Making education more flexible
The Acceleration Plan for Educational Innovation with ICT is divided into 8 acceleration zones in which 40 research universities and universities of applied sciences collaborate. From the representatives of the participating institutions, a leader has been selected to head the acceleration team.

With 17 participating institutions, the Flexibility acceleration zone is one of the largest zones of the Acceleration Plan. Flexibilisation is a multidisciplinary issue with educational, organisational and technological aspects. We take an integral look at flexible education, based on the principle of the student journey. Each institution chooses its own focus, in line with its own dynamics.
4 Flexible student paths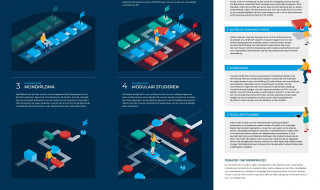 During two intensive design sessions, the Acceleration team has worked on four prototypes of flexible student paths:
At your own pace: flexibilisation in time and pace
Off the beaten track: enroll in courses outside of your programme or institution
MyDiploma: flexibilisation in programme (personal curriculum)
Modular learning: enroll in modules of degree programmes
Looking ahead
This year, we are focusing on connecting all players in the field, both within the zone and with external stakeholders. As a foundation for the coming years, we will further elaborate the four student journeys, share them on a broad scale and test them within the institutions involved. As a result, definite commitment can be requested after the summer. A meeting with students gives us an account of their personal perspective. We are working on a common framework of concepts and are initiating this process by developing a white paper on flexibility.
Student session May 2019
On 13 May, 15 students participated in a feedback session organised by SURF and the Acceleration Team. The theme of the feedback session was 'flexibilisation of higher education'. The feedback session was organised to find out what students want from flexible education, what problems they face when it comes to flexibility, and their requirements are for flexible education. In 6 groups, the students offered their experiences and insights to exports from universities, universities of applied science, and SURF. Read the report about the feedback session (pdf).
Action plan
This zone works on making education flexible in time, pace, place, and programme. This is done based on four student routes the zone defined:
Route "Own pace" where students enrol for one programme at on institution and study at their own pace (speeding up or slowing down)
Route "Off the beaten track" where students can study outside of their own study programme, faculty, or institution
Route "My Diploma" where students determine the content of their study programme
Route "Modular study" where students register for modules of a study programme and not for the entire study programme
Team leaders Ulrike Wild and Paul den Hertog say the following about their zone's action plan: 
"Society is becoming more flexible, we are training for professions that don't yet exist. That is difficult if you have to choose a study programme that will potentially won't give you the best opportunities upon completion. Students want to be able to make adjustments during their studies. Flexibilisation, being able to choose which courses to follow, where, when, and at what pace, allows students to do this. As the term 'flexibilisation' leads to confusion, we have described four prototype student routes.  An institution or syndicate of institutions can use these routes as a framework for small experiments in order to achieve greater flexibility. We're trying different things and are hoping to discuss the design of the current system. You have to try out things to find out what works and what doesn't. For example, if it turns out everyone wants to study in three years, we don't have to work on making pace more flexible. With flexibilisation, we're not trying to change the existing system, we're simply adding to it.
We're in contact with the Ministry of Education, among others. Every institution in the acceleration team will also develops plans for their institution, in which they commit themselves to one of the student routes in general terms. We'll organise a strategy workshop to discuss flexibility with directors and board members of education institutions. We're working on a toolkit for designing and implementing flexible education. By joining forces, we can show how great the need is to make education more flexible."
Read the full plan of action (pdf).
Leaders Ulrike Wild and Paul den Hertog:
"The flexibilisation of higher education has many facets; including an education catalogue, modularisation, micro-credentialing, standardisation, flexible deployment planning, learning outcomes, online remote teaching, hybrid forms with face-to-face and online teaching, testing independent of the manner of learning, micro-masters, agreements on the organisation of collaboration and of course, life-long learning. There is an enormous diversity of ingredients with which higher education can be made profoundly more flexible. For the next 4 years, the 'Flexibilisation' acceleration team will work on a book of recipes that suits this!"
Team Making education more flexible
Meet the acceleration team: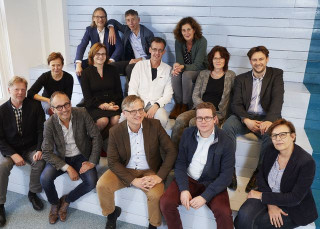 | | |
| --- | --- |
| Avans University of Applied Sciences | Frank Vriens |
| Breda University of Applied Sciences | Iris Ossenblok |
| Codarts Hogeschool voor de Kunsten | Roberto Barros Andrade |
| Hanze University of Applied Sciences | Tineke Kroontje |
| Leiden University of Applied Sciences | Robin Vos |
| Rotterdam University of Applied Sciences | Robert Bouwhuis |
| HU University of Applied Sciences | Lucie Lolkema |
| Amsterdam University of Applied Sciences | Paul den Hertog (leader) |
| HAN University of Applied Sciences | Marcel Penners |
| Windesheim University of Applied Sciences | Elsbeth Vonkeman |
| Hotelschool The Hague | Menno de Vos |
| HZ University of Applied Sciences | Richard van Iwaarden |
| Saxion University of Applied Sciences | Irene Visscher |
| SURF | Janina van Hees (connector) |
| Eindhoven University of Technology | Fred Gaasendam |
| Universiteit Utrecht | Nanette Verhulst |
| Wageningen University | Ulrike Wild (leader) |
| The Hague University of Applied Sciences | Anne Venema |
| Politieacademie | Ilona Slot     |
| Wageningen University&Research | Jip den Held (junior) |
Leader Paul den Hertog