Increase student engagement through meaningful learning
Do you want to increase student engagement and enhance their learning? And would you like to know how open education can contribute to this? In this webinar, we reflect together on how to engage students in their learning.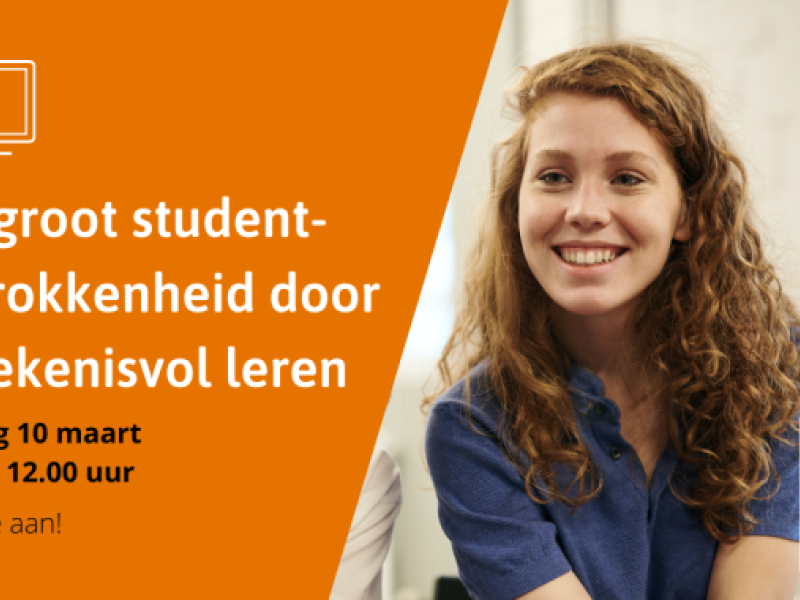 In this webinar
Meaningful learning involves different characteristics of learning, such as: active and autonomous, constructive, collaborative, purposeful and learning in an authentic learning context. According to the makers of this webinar (Special Interest Group 'Open Education'), to enhance meaningful learning, it is necessary that it takes place in an open context. Teachers and students work on and with open learning materials and are connected to each other and to the professional field through open networks.
Think, for example, of students jointly developing an openly available textbook or public website for people who want to eat healthier. This open context of meaningful learning is also known as Open Pedagogy. With Open Pedagogy, the focus shifts from passing an exam to contributing to the learning process of other students and society by sharing knowledge. Open Pedagogy is known to increase student engagement. Because students create materials themselves, and share this with others, they feel more responsible for a product. They also feel part of a professional community because they often collaborate with teachers in a different way.
In the webinar, we give an example of meaningful learning and interpret it using components from the Open Pedagogy framework. Participants will discuss in break-out groups how to engage students in their learning. What are triggers in this regard? When is learning meaningful for you? What aspects play an important role in this?
In further discussion of the Open Pedagogy framework, we use the results of the break-outs.
This webinar is part of Open Education Week 2023.
After this webinar:
You will know what Open Pedagogy and the Open Pedagogy framework 2.0 is and how to deploy it in your teaching.
you will have gained inspiration and think about engaging students in your teaching in your next subject/lesson because it makes for meaningful learning.
About the speakers
Monique Schoutsen, Specialist Scientific Information at Radboud University
Ria Jacobi, Policy advisor educational innovation at Inholland University of Applied Sciences
Marjon Baas, Educational Technologist, Saxion University of Applied Sciences
Michiel de Jong, Coordinator of Open Education, TU Delft
For whom?
Lecturers and educational developers who want to provide education where students are considered full.The webinar is also of interest to supporters of these teachers and developers.
Sign up
Participation in this webinar is free of charge. Are you interested?
Sign up here
Want to learn more?
Would you like to learn more about the topic before the webinar? Then read the following publications.
Read the blog: Open pedagogy: driver for meaningful learning
Read the publication: Open pedagogy: driver for meaningful learning
All events in