National XR Day
Join the National XR Day on Wednesday July 5th at the TU Delft Library.
Whether you are already working with eXtended Reality (Virtual, Augmented and Mixed Reality) for education and research, or are exploring its potential.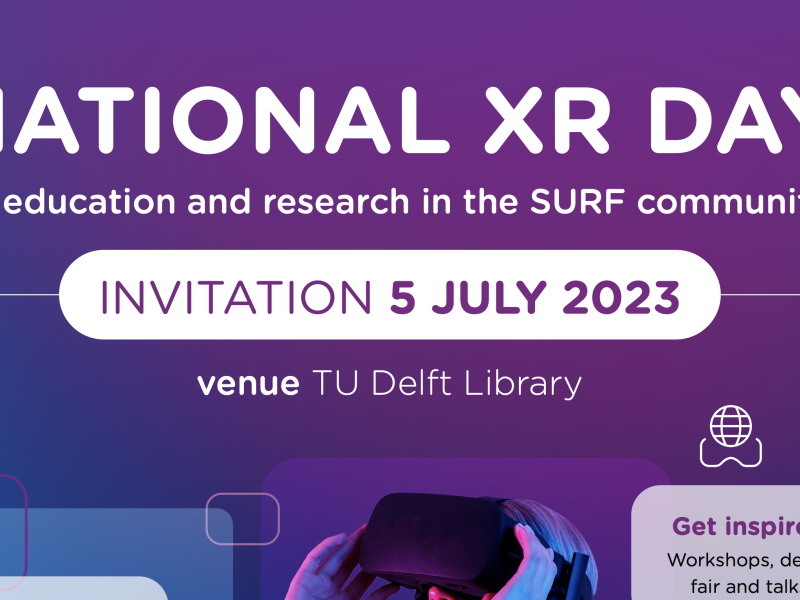 Call for contributions National XR Day 2023
National XR Day is about sharing and showing the latest uses of XR in education and research. You can present the way XR is being used at your institute in a talk, let participants experience a demonstration of your XR application during the day, or hold a topical workshop for a more interactive session. In case you merely want to shortly update the audience on your work we also include a session with lightning talks.
Please click the button below and fill out the form (view the form here) to propose a contribution!
If you would like to propose several contributions, please fill out a seperate form for each one.
For questions, please send an e-mail to xr@surf.nl.
Closing date is Friday March 17th.
Topics
Below is a set of suggested topics that fit the event well, but please note that the list is not exhaustive and there are many more interesting subjects related to the use of XR in education and research.
3D volumetric rendering
AI in combination with XR
Brain-computer interfaces for XR
Collaborative XR
Computer graphics techniques
Digital Twins
Education using XR
Effectiveness of applying XR
Ethical issues
Future Campus
Gaming in XR
Haptic interfaces and rendering
Immersive / 360° video
Inclusiveness of XR technology
Large-scale or complex XR worlds
Maintenance and operation of XR infrastructure
Medical applications
Metaverse
Modeling and simulation
Privacy
Realism
Remote rendering
Research using XR
Serious Gaming
Social XR
Software architectures, engines and toolkits
Spatial audio in XR
Standardisation and ecosystems
Training using XR
User experience & user interfaces
Virtual humans and avatars
All events in