SURF Research Week
SURF Research Week is the national conference that connects research, IT and innovation. The event took place on 10, 11 and 12 May 2022. Participants could sign up for just 1 or 2 days, or for the full 3 days. It's free!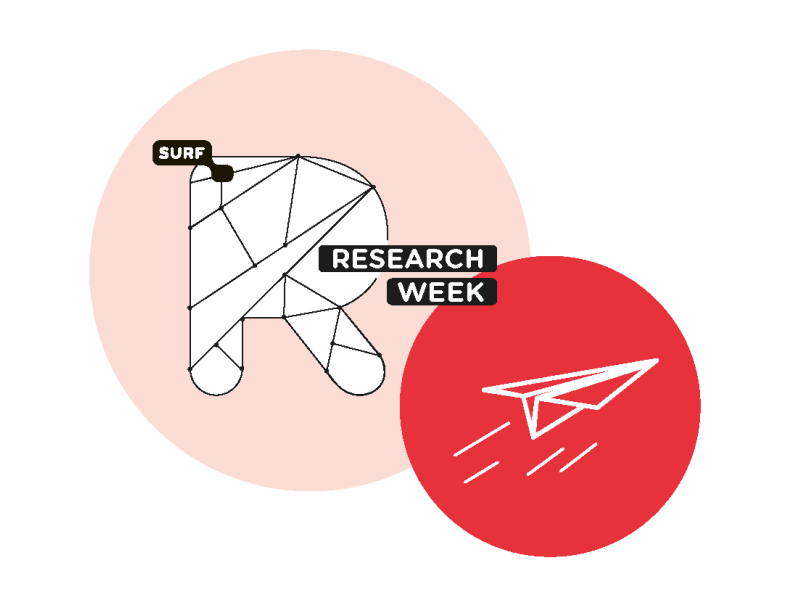 Conference Topics
Trust in Research
Carefree Scientific Collaboration
How do we handle sensitive data responsibly? How do we share data with researchers from other institutions, and in other countries? How can we safely and securely perform calculations on this type of data? How do we regulate access to stored data sets? Researchers from different disciplines, such as health and social sciences, are struggling with these kinds of questions. At the moment, scientists spend a lot of time on legally safeguarding privacy requirements. Let's see how IT solutions can help to increase trust between institutions.
Research Support 
How to Be the Best Science Sidekick
With the increasing digitisation of research, researchers are faced with questions such as: which tools do I use to collect, store and process my research data, and what are the requirements? How can I reuse code or software? How can I share my results with other researchers? A good support system enables researchers to spend their time mainly on the research itself and not on the peripheral issues. But how can researchers be optimally supported? What do they need and where can they turn to? Join one or more of the sessions in this theme and share your thoughts!
Research Applications
Can We Keep Up With Exponential Growth?
Ultimately, scientific research is all about the results and the associated publications. The use of software applications and software environments is indispensable for this. Technology is constantly evolving and the amount of available resources has been growing exponentially for years, but of course user requirements evolve along with the available technology. Within this theme we will show how this impacts researchers and the application landscape.
Future Technologies
To Boldly Go Where No One Has Gone Before
Future IT technologies will have transformative impact on the way scientific research is performed. They could lead to new mindsets, new opportunities, and even to new paradigms. It is important to sense and analyse today's developments in terms of opportunities, challenges, and uncertainties to cope with and take advantage of future technologies. In this theme we will explore and discuss together the emergent technologies, the trends around us, and their impact on research in the future.
Connecting Communities
How Can We Learn from Each Other?
No matter how big the differences between different research communities, they often run into similar challenges. Such as: how to effectively manage my data? Where do I find the right tools and technology for analysing my findings? How to securely analyse, store and share sensitive data? So why not learn from each other and gear up innovation together? In this theme, we break the boundaries between scientific fields and explore our common goals.
Sustainable Science
Is Research IT Destroying our Climate?
While digitisation accelerates scientific research, there is also a downside. The huge carbon footprint, the out-of-control energy demand, and the growing need for natural resources which go hand in hand with our research infrastructure, can no longer be ignored. In this theme we will talk about possible solutions for reducing the climate impact we cause with our scientific research, now and in the future. How can you be excellent in your scientific research and be sustainable at the same time?
All events in