SURF Research Week
SURF Research Week is the national conference that connects research, IT and innovation. The event took place on 10, 11 and 12 May 2022. Participants could sign up for just 1 or 2 days, or for the full 3 days. It's free!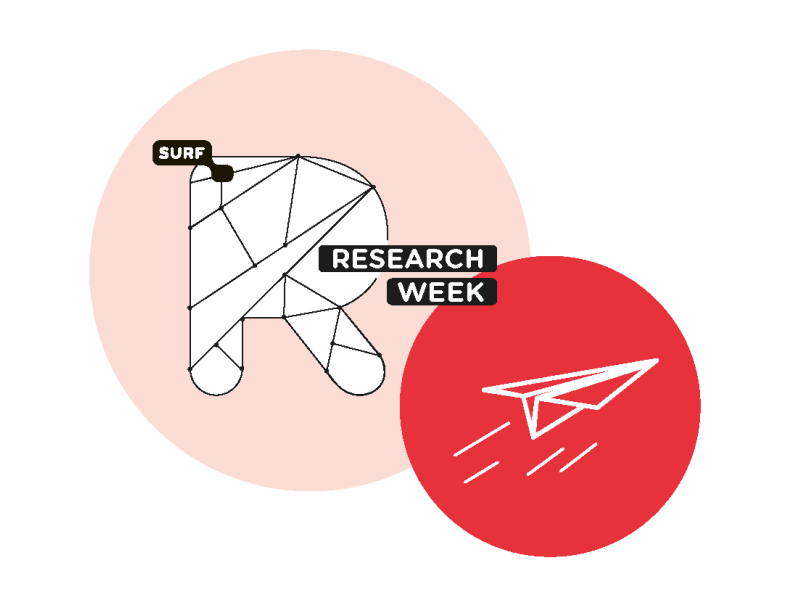 SURF Research Support Champions
Good research supporters form a bridge between researchers and research IT. Vital work, but often invisible. The SURF Research Support Champion awards put in the spotlight those who have made remarkable efforts to support research within and outside their institution. The winners are announced during SURF Research Week.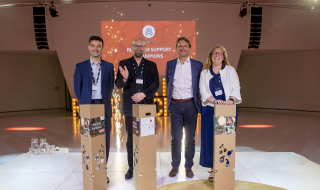 Winners 2022
Category Universities:
Serkan Girgin, associate professor and head of the Center of Expertise in Big Geodata Science, University of Twente
"Without his support, I would not have been able to conduct my research."
Serkan was nominated by several people: colleagues at the University of Twente, but also researchers abroad. He clearly has a broad network. Serkan built a data analysis platform that provides easy access to many open-source geographical analysis tools. The nominations show that Serkan really makes an impact in his field. He is very active in promoting open and reproducible research in the wider scientific community, and also looks beyond national borders.
Category Universities of Applied Sciences:
Sarah Coombs, adviser Research Support at Saxion
"She has put research support on the map, both within Saxion and nationally."
Sarah's strength is that she understands the work of the researcher. She not only supports researchers at her own institution, but is also very active nationally and internationally. She is a true expert and has played an important role in the professionalisation of data stewardship. Among other things, Sarah has ensured that 20 universities of applied sciences have joined forces in a Digital Competence Center (DCC) to work together on research support at a national level. 
Category UMC & Research:
Michèle Huijberts, information architect at the radiology department of UMC Leiden
"Michèle goes above and beyond to support all the digital needs in our group."
Michèle developed an infrastructure that automatically anonymises and stores images from MRI scanners. This required connections between the hospital's storage system, the hardware of the MRI scanner, the system for electronic patient information and a server for anonymising imaging to comply with privacy regulations. This will make it possible to scan patients in less than 10 minutes instead of the current 30-60 minutes. With huge implications for patient comfort, but also for the logistical flow and finances of the hospital. The data infrastructure also makes it possible to collaborate with other institutes.
See the full jury report (pdf)
Why this award? 
By research supporters we mean anyone who supports researchers in the field of research data management and IT. With the storing, managing, archiving and sharing of their research data, but also with software development and advice on research applications. For example, data stewards, IT professionals, library staff or research assistants.
By creating this prize, we want to give research supporters at institutions a platform and inspire others. The entries were judged by looking at the way the nominee's contribution to research support is outstanding, the way in which they connect the needs of researchers with research support, and the impact of their work.
Jury 
Ron Augustus, chief innovation officer SURF (chair of the jury)
Joris van Eijnatten (Netherlands eScience Center)
Petra Drankier (NFU)
Lisa Oskam (PNN)
Hans Vossensteyn (DCC PO/Saxion)
Jeroen Rombouts (DCC implementatienetwerk/EUR)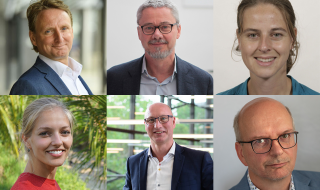 The Research Support Champions 2021
The SURF Research Support Champions 2021: Maria Kamp, Mariëtte van Selm and Bob van Dijk.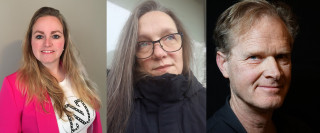 Category Universities:
Maria Kamp, Coordinator Research Support at University of Twente 
"Puts herself in the shoes of the researchers"
The jury report says: Maria was nominated by no fewer than 5 colleagues. She inspires others with her decisive approach and collaborative mentality. Maria puts herself in the shoes of the researchers, which really helps her to support them. She takes all kinds of administrative work off their hands, so that the researchers can focus on their primary task, and always comply with data management and ethics requirements.
Category Universities of Applied Sciences:
Mariëtte van Selm, Coordinator Research Data Management (RDM) support at the UvA-HvA library
"An indispensable adviser"
The jury report says: An indispensable adviser. With unflagging energy and pragmatic commitment, Mariëtte helps researchers obtain, process, manage and sustainably archive research data. She listens well and brings the right people together at the right time. Mariëtte is a valuable link between the worlds of applied sciences and academia. Within the Amsterdam University of Applied Sciences and the University of Amsterdam the term RDM is inextricably linked to her name.
Category UMC & Research:
Bob van Dijk, adviser High Performance Computing at Amsterdam UMC
"Builds the bridge between researcher and research IT"
The jury report: Because of his solid, substantive, cross-domain knowledge, organisation-wide contacts and very helpful approach, Bob is the pivot of all HPC activities within Amsterdam UMC. This Research Support Champion builds the bridge between researcher and research IT by guiding researchers in technical solutions and translating their support request to technical requirements for research IT. Moreover, this widely respected expert can always be approached by colleagues for a virtual coffee.
Jury 2021
Ron Augustus, chief innovation officer SURF (chairperson of the jury)
Joris van Eijnatten, director Netherlands eScience Center
Petra Drankier, senior policy advisor Nederlandse Federatie van Universitair Medische Centra (NFU)
Mariska van der Giessen, chairperson Vereniging van Lectoren
Lisa Oskam, board member Promovendi Netwerk Nederland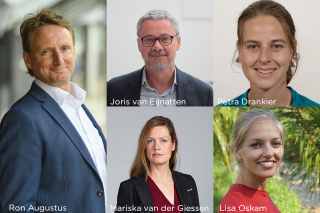 All events in