E-LAN
SURF is investigating the possibilities of an E-LAN (Ethernet Local Area Network) within the SURF network. An E-LAN is a virtual private LAN for connecting multiple locations. Researchers from UMCs are currently cooperating with the help of SURF's E-LAN.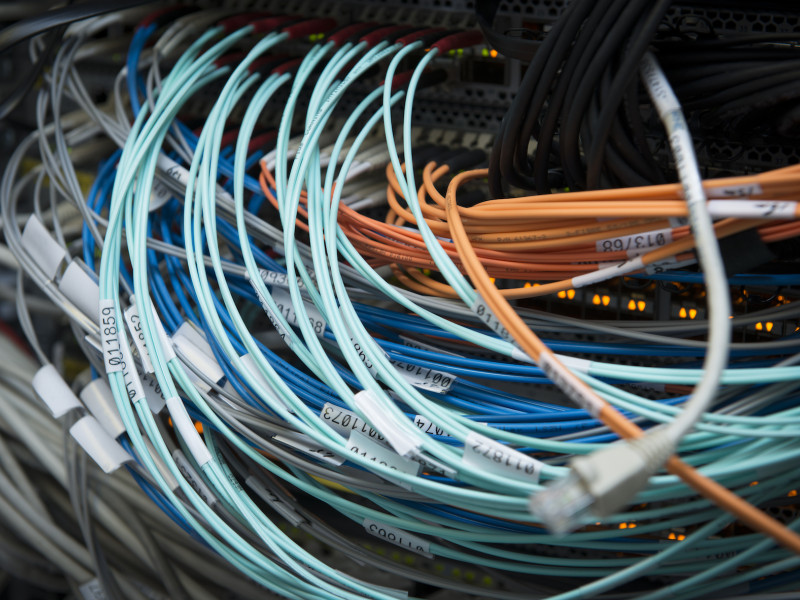 What is an E-LAN?
Multipoint-to-multipoint
An E-LAN is a Layer 2 multipoint-to-multipoint connectivity service. In an E-LAN, multiple locations are connected to each other. The exchange of data remains limited up to the endpoints within the E-LAN, creating a virtual private network. Due to the Layer 2 functionality within an E-LAN, every location can exchange data with every other location, just as they would if they were using the same LAN.
Simple management 
This concept is different from an OPN (Optical Private Network), in which an institution has to manage the switching itself. With an E-LAN, the Layer 2 multipoint-to-multipoint switching functionality is provided and managed by the SURF network.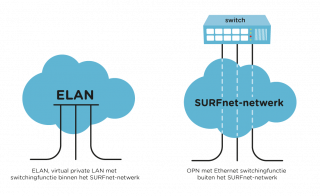 Great flexibility
Besides being easier to manage, an E-LAN also offers greater flexibility than an OPN. An E-LAN allows endpoints to be added or removed to or from the network without any interruption to the connectivity to other existing endpoints. An E-LAN also allows the bandwidth of the endpoints to be adjusted.
E-LAN applications
An E-LAN allows for the creation of a 'local' network with national coverage, whereby institutions can connect multiple locations with each other and cooperate with other institutions. A project is currently underway involving researchers at UMCs using SURF's E-LAN to create a single virtual UMC with eight locations. Participants in this project include LUMC and SURFsara. The researchers want to connect all UMCs with a private network that has nationwide coverage, allowing researchers from these UMCs to exchange data quickly and securely.
Research goals 
As part of this innovation project, certain aspects related to E-LANs will be investigated further to assess how we can deliver a production service. These aspects include defining and setting up the reporting functionalities and availability of this service as well as investigating how an E-LAN can be integrated with campus networks.
Schedule
Since autumn 2015, an E-LAN has been available for pilot projects. Researchers from UMCs are currently cooperating with the help of SURF's E-LAN. The aim is to expand the UMC E-LAN pilot to several UMCs in the near future.
This makes scalability increasingly relevant: what is the best way to handle IP routing? The layer 3 VPN scenario seems to appeal to the institutions involved the most. That is why a test layer 3 VPN has now been made available to the participants of the E-LAN pilot, in addition to the layer 2 VPN E-LAN. This will allow us to determine which of the 2 pilot services best meets their wish to create a private research network between multiple institutions. The layer 3 VPN is now connected between SURFsara and the UMCG. The other participants will also join this. We are comparing experiences with the current layer 2 VPN E-LAN and the layer 3 VPN pilot. Based on the feedback we receive from the participating institutions, we will be able to make an informed choice between layer 2 and layer 3 in the longer term.
New pilots can be launched on request.
More information