eduID: 1 digital identity for students
Education digitalises and is becoming more and more flexible. Students want to shape their own educational career. This creates logistical and administrative challenges. Therefore SURF, together with the institutions, is developing eduID: one identity that students can use at any educational institution: before, during, and after their studies.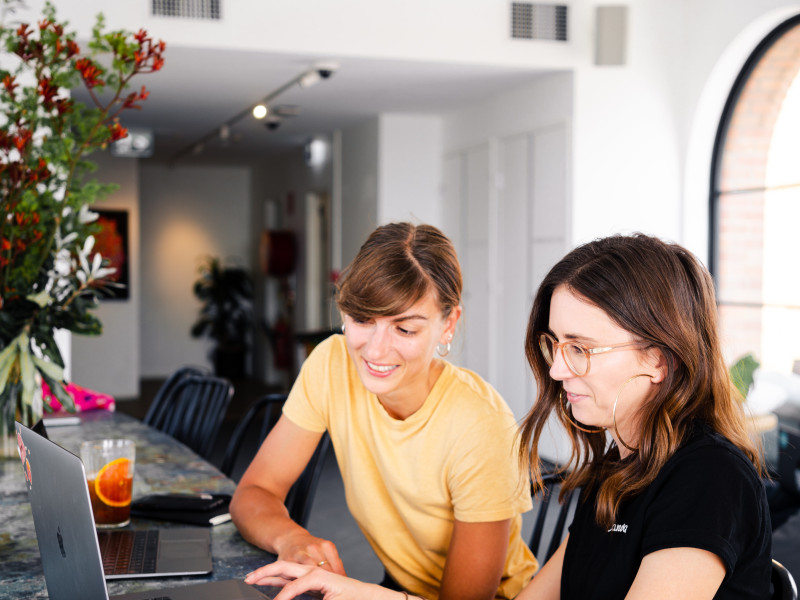 What is eduID?
SURF wants to encourage and support flexibility and trends for lifelong development with IT. To that end, SURF has launched a number of projects, including eduID. The aim of eduID is to make available an umbrella digital student identity that is independent of an institution.
eduID as an identity provider
If you do not have an institutional account and you need to log in to a service connected to SURFconext, you can log in using eduID. This 'guest function' of eduID has been operational since 2020. To do so, you must first create an eduID at eduid.nl.
What to use eduID for?
You can use eduID to:
Identify and authorize students. With eduID, students can identify themselves at an institution and gain access to the necessary applications. See the pilot with edubadges.
Exchange student information or results digitally between the student's educational institution(s). He determines which data he shares and with whom. See the student mobility pilot from the Flexibilisation zone of the Education Innovation with IT Acceleration Plan.
Simplify the registration process if a student wants to take a course at another institution.
Keep a lifelong view and control of their own educational data. Think of completed courses, courses taken at an institution and linked edubadges, as well as completed courses and courses taken during their careers.
Keep insight into educational careers at the end of studies or offering services to alumni.
More than a student number
eduID is much more than a student number. It is a facility linked to a person. This is in contrast to the current student number, which is linked to an institution. Students, and no longer the institutions, are in charge of (personal) data, subjects taken and grades. In the eduID project, we are developing 1 digital identity for students in the Netherlands. With this eduID, students are familiar with their own institution, but they can also use it to identify themselves at another institution or to give permission to share data between institutions. But what exactly is it and why do we need it?
Why eduID?
A digital student identity now lives only within your own institution. It has no meaning before, after or for other institutions. In order to encourage flexibility and lifelong development, we are looking for an alternative. With eduID, we create a digital student identity across the borders of an educational institution, which also makes access to administrative and educational processes considerably easier. Think of it as a DigiD for education. See also the Frequently Asked Questions about eduID.
eduID contributes to:
the flexibilisation of education: students have more freedom to compose their own curriculum, both within and outside their own educational institution.
develop throughout their lives: you can still follow courses and programmes even after they have completed their studies.
eduID principles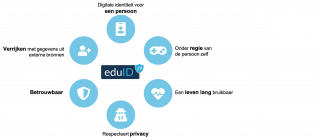 For eduID, we have the following principles:
personal, and in principle everyone is allowed to create one.
the person himself is in charge.
usable for life: eduID does not expire after graduation.
privacy friendly: the student has control over his or her own data. He determines which data he shares, and with whom.
reliable: reliability of identity is important. Certainty about a person's identity is the starting point.
enrichment with other education-related matters (student, institution, study). For example, a student can link his edubadges to his eduID.