eduroam: easy access to wireless networks
eduroam gives students, lecturers, staff and researchers quick and easy access to the fixed and wireless networks at their own institution and at other institutions that offer this service. At more than 30.000 locations in more than 100 countries.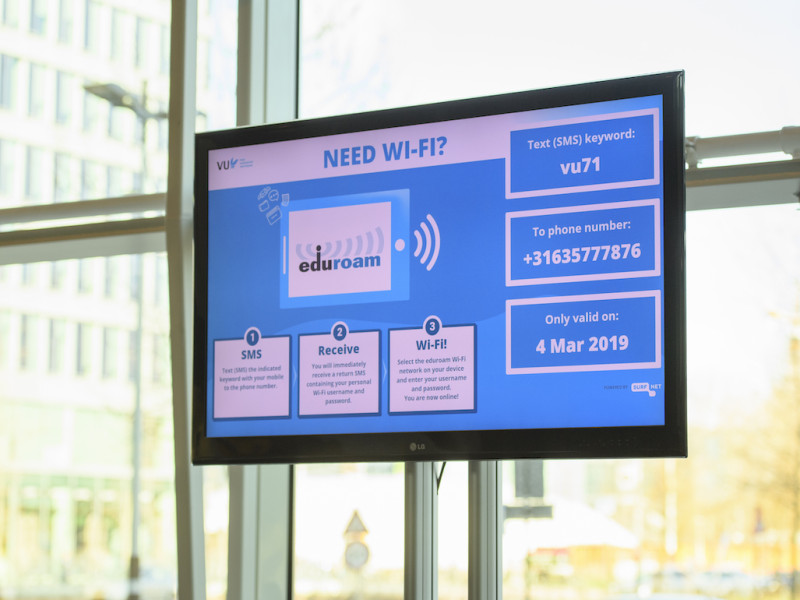 eduroam Visitor Access
You can use eduroam Visitor Access to create temporary eduroam-accounts and assign them to your institution's visitors. This allows visitors to use the same safe and reliable Wi-Fi network as students, researchers, lecturers and staff.
Visitor access to eduroam
In addition to students, researchers, lecturers and staff, institutions receive visitors every day who would like access to the Wi-Fi network, whether this is a guest lecturer, a repairer or a large group of visitors for a conference. Your institution can use eduroam Visitor Access to offer these visitors a safe and reliable Wi-Fi connection too.
Advantages for the visitor and the institution
Both visitors and your institution have the advantage of low-threshold access to eduroam for visitors. The visitor can use the network securely and is no longer at the mercy of less secure (open) guest networks or other (unknown) Wi-Fi networks in the vicinity of the institution. And your institution knows exactly who is on its network and retains control.
Unique service
eduroam Visitor Access is a unique service which is attracting a great deal of interest from other eduroam countries across the globe. eduroam Visitor Access combines new technological innovations with the practical requirements of institutions to provide safe and reliable Wi-Fi to visitors.
So how does it work?
The staff at your institution (reception staff for example) have access to a clear and intuitive web portal which allows them to allocate a temporary eduroam-account to visitors to your institution. Once the account has been created, the visitor receives an email and SMS message containing their personal login details which automatically become invalid after a period of time that can be set by the member of staff.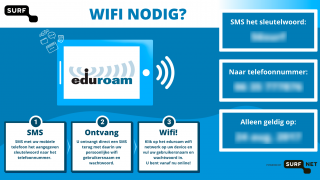 Possibilities offered by eduroam Visitor Access
Create individual accounts: staff can create an account for individual visitors to your institution.
Create multiple accounts simultaneously: if you are organising a conference, you can create a temporary eduroam-account for the participants in advance. You can do this by simply uploading an Excel file in the web portal.
SMS events: don't know which visitors are attending an event? You can allow these visitors to create their own temporary eduroam-account. The visitors send an SMS message containing a key word you have created and obtain their credentials immediately.
1-day SMS: new eduroam credentials every day, which the visitor can request by SMS; so your staff don't have to worry about issuing visitor accounts.
Rate
There is no extra charge for eduroam Visitor Access because it is covered by SURF's basic fee Infrastructure.
Requests
Connecting is very simple and can be completed in two steps:
the technical connection via the SURFconext dashboard
Your institution does not need its own hardware or software for this. Are you curious about eduroam Visitor Access or would you like to know more about how it works and its capabilities? Please send an e-mail to eva@surfnet.nl.
Also read