Learning spaces
Learning spaces properly support activational education and help students develop 21st century skills. The physical spaces offer extensive didactic opportunities, stimulate learning processes and are in some cases rich in technology. But how do you develop learning spaces? How do you ensure that they are used to their full potential?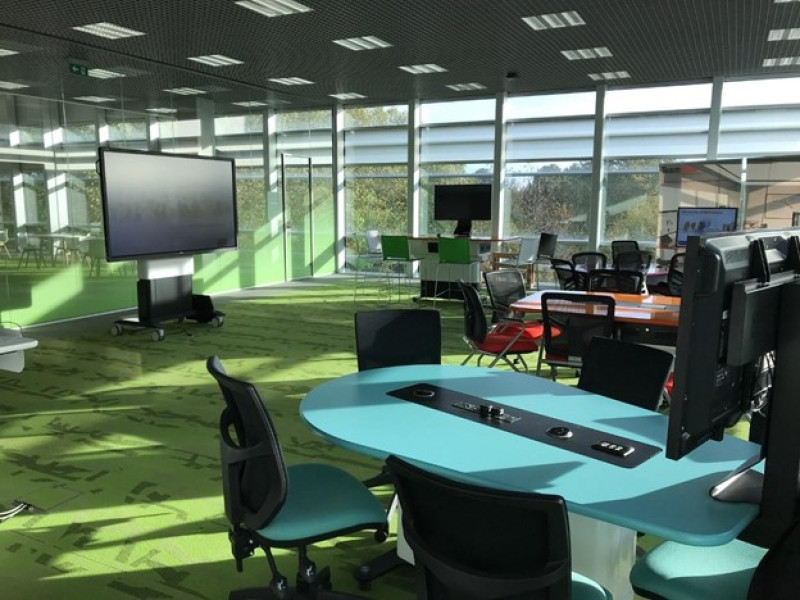 Teacher engagement
A major challenge in using learning spaces is how to get our teachers to actually teach in them. Experience shows that realising a beautiful space also requires extra attention to its actual optimal use. How do we increase teacher engagement and stimulate use?
The Learning Spaces Special Interest Grouphas produced a document that can help you increase teacher engagement for innovative teaching spaces (PDF, in Dutch). Below is the summary of this publication.
Teacher engagement - 4 focus areas
How do we engage the users of learning spaces? The SIG Learning Spaces considers it important to ensure that teacher engagement is enhanced. The factors that influence teacher engagement are approached from 4 focus areas: organisation, management, support and communication. Below is a brief description of each focus area.
Organisation
Both the informal and formal organisational culture and structure can be used to ensure that more use is made of the learning spaces.
Management
Ensure that the timetable for the scheduled space corresponds to the instructor's wishes (in terms of teaching methods) and the characteristics of the course.
Support
Teacher support must be optimal. As many technical and didactic barriers as possible must be removed. Organise workshops, instructional meetings, one-to-one coaching, and do-it-yourself support.
One possibility is to train students as support staff or to give lecturers access to a room only after they have attended an introduction.
Communication
Effective communication around innovative teaching spaces is essential to increase teacher engagement, and contributes directly to the success of such projects. Communicate both internally and externally, and align with common designations for these spaces, see Teaching Spaces [link tab 3].
Want to know more about how to increase teacher engagement? Then read the comprehensive document Increasing teacher engagement for innovative teaching spaces (PDF, in Dutch). And take a look at the examples below.
3 practical examples
Utrecht University, KU Leuven, University of Amsterdam and others share their best practices and failures in promoting the use of learning spaces, based on four focus areas: organisation, management, communication and support.
University of Utrecht – Active Learning Classroom
The realisation of the Active Learning Classroom at Utrecht University was inspired by the concept and research of the University of Minnesota. It is a collaborative learning space, where the teacher operates from the centre of the room and eight groups of six students have access to a sit-stand table, screen and whiteboard. The teacher has control over what is shown on each screen: the teacher's content, their own group's content, or another group's content.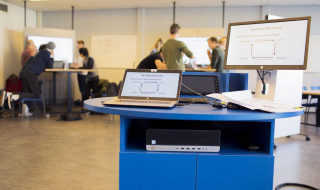 KU Leuven – Hybrid virtual classroom
In the spring of 2019, KU Leuven decided to replace the existing specific teacher training programmes with 10 new master's programmes. KU Leuven is a multi-campus university and these educational masters are organised at 9 different locations in Flanders. To facilitate this brand new training, they chose to install a hybrid virtual classroom. They opted for flexible furniture, which meant they could quickly switch between a collaborative set-up with 6 groups and a classroom set-up. Via video conferencing, students can dial in remotely, individually or in a group, to follow the class synchronously.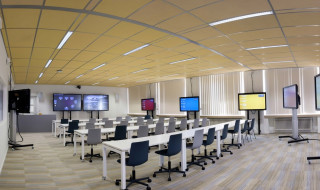 University of Amsterdam – Active learning classroom
Since 2012, the UvA has regularly experimented with innovation in learning spaces. In all experiments, the emphasis is on supporting active learning, a movement that has emerged in higher education since the beginning of the century, and which is based more on student-centred concepts. The focus is on interaction between students, interaction between groups, and interaction between instructor and student.