Lisa Compute Cluster: extra processing power for research
Lisa Compute Cluster combines processing power with user friendliness. Are the limits of your own system inhibiting your research? This service lets you upscale to a higher level. Lisa Compute Cluster is preconfigured with a range of software packages, meaning you can start working right away.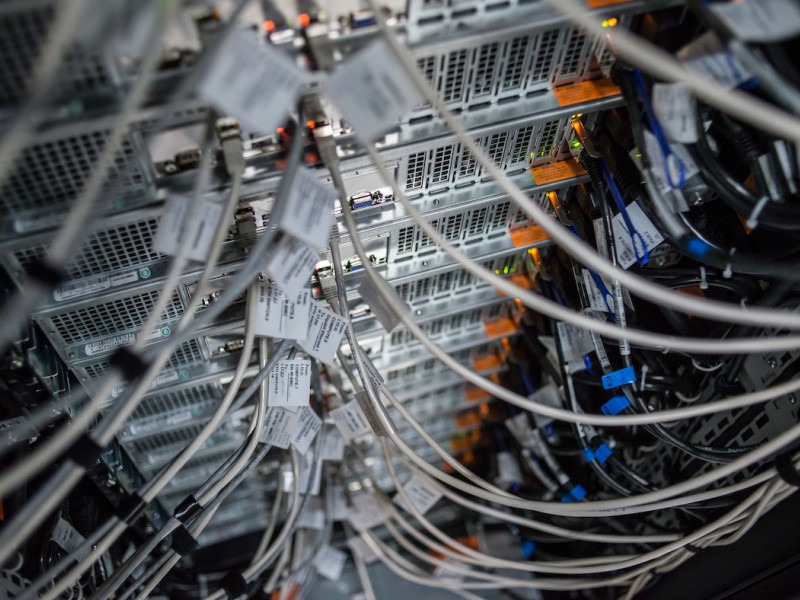 Lisa Compute Cluster offers extra processing power
Lisa Compute Cluster is a centrally managed Linux cluster, that is ideal for large-scale computations. It's a service comprising a wide range of resources, compilers, and software, such as R statistics and MATLAB, and libraries, such as the Math Kernel Library (MKL) of Intel. SURF continually adjusts the service to the needs of the user community. For example, Lisa Compute Cluster includes accelerators (very fast processors) and high memory nodes (for users who need nodes with extra memory). When processing batch jobs, SURF applies a 'fair share' mechanism.
Case examples Lisa Compute Cluster
Many research projects are reaching their limits when it comes to the amount of data to be processed and the necessary processing power. This applies to researchers at universities and university hospitals, but also to companies doing research that requires a great deal of processing power.
For such projects, the power of Lisa Rekencluster offers the solution. Below are a number of examples of research projects in which Lisa's capacity has been successfully deployed:
Made to measure
We make sure that Lisa Compute Cluster gives you what you want. If you have specific requirements that the service does not (yet) fulfil, we can shape the system for you on a made-to-measure basis. To give one example, Lisa Compute Cluster provides 200 GB storage space as standard in your personal directory. And if that's not enough, we can expand your storage space, with any associated backup, at your request.
Workspace
One of our additional services is a workspace. This is your own Lisa Compute Cluster working environment providing you, for example, with access to extra storage or the use of applications with an interactive interface. In this way you can upscale your calculations from the workspace to Lisa Compute Cluster if you need more processing power.
Rates
You can find the rates for this service in the SURF Services and Rates brochure (PDF)
Support and helpdesk
As a user of Lisa Compute Cluster you can always call in the help of our support services. We can help you to run your own software or algorithm, for instance. Our team can install special software packages and will help you to make optimum use of the service or to parallelise your software. What's more, you can consult manuals online for suggestions on improving performance, or follow a training.
Our helpdesk can be contacted by telephone or e-mail, or alternatively you can make an appointment with one of our staff. Ask your questions or report your problems via the servicedesk portal, via email (helpdesk@surfsara.nl) or by telephone on +31-20 800 14 00. The helpdesk is open during business hours (9.00 – 17.00).
Would you like specific advice on optimising your code or achieving better performance? Then get in touch with our consultancy service.
More information
For more information regarding the use of the Lisa Compute Cluster, technical specifications, and the available software, please see the user information of the Lisa system.
Complete support with our additional services
If you use this service, you may also be interested in the following services:
Consultancy: independent advice
Our consultants support you from the first analysis of the problem to the final implementation. They provide independent advice on, among other things:
submitting jobs
how to ensure that Snellius or the Lisa Compute Cluster deliver an even better performance
methods for approaching your data
design and optimisation of your own software
the exact design of your data storage system
how to organise your data infrastructure
how to make optimal use of our compute and storage facilities
integrating your virtual infrastructure into your work processes
optimisation of applications
running your software in parallel for faster processing.
Depending on the size and complexity of your question, you will receive a customised proposal. For more information, please contact our consultancy service.
Long-term storage of research data
The central archive of SURF offers you extensive options for storing your research data. In addition, you can also use the PID (Persistent Identifiers) service on data that is stored on SURF storage services. Do you want to store your data securely over long periods? Then make use of our Data Archive service.
Visualisation: immediately clarity of results
Do you work with calculations that produce large amounts of data? Then you should use our visualisation techniques and support. Visualisation helps you to better interpret the results of your calculations.
ISO 27001 certification
Customers of our data and computing services must be able to rely on the fact that research data and other confidential information stored and processed by SURF are in safe hands. SURF is ISO 27001 certified. This means that we meet the high requirements of this international standard in the field of information security