Lunch and drinks SURF Utrecht
Have you hired a conference room at SURF, location Utrecht? Free coffee, tea, water and biscuits are always included in your room reservation. You can also order lunch or drinks. This page gives you an overview of the assortment and costs.
Lunch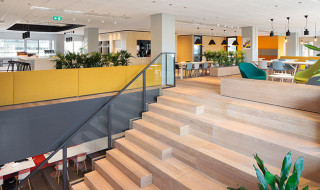 All lunches cost EUR 9.50 per person. The SURF lunch is ordered as standard. You can also order an Italian or French lunch. If you have any other wishes, please contact us for options (zaalreserveringen@surf.nl). At all lunches, sandwiches with cheese and meats are served separately.
Lunch options
SURF lunch
These sandwiches are served with Dutch cheeses and meats.
2 small malt/sour dough bread rolls
1 bread roll/sandwich assortment
Milk/buttermilk
Piece of fruit
Sandwich lunch
Tasty richly filled 3-layer sandwiches, brown, corn and white bread (2 per person) topped with e.g.:
Vintage cheese with pear syrup and fresh lettuce (vega)
Classic BLT sandwich, roasted with turkey and mild mustard mayonnaise
Ham with cheese, tomato, cucumber and egg salad
Roast beef with basil pesto and pecorino
Mozzarella, tomato with pesto sauce (vega)
Italian lunch
Freshly baked Italian luxury breads and Italian toppings with matching garnish and dressings:
Foccacia with various Italian meats
Mini spelt or malt roll with various vegetarian Italian toppings (vega)
Mini spelt or malt roll with Italian fish varieties
French farmer's lunch
Our most popular lunch with delicious French products and French viennioserie:
Luxury 3-layer sandwich filling
Freshly baked baguette or cereal bun with toppings and garnish
Assortment of freshly baked viennioserie: croissants and raisins or cinnamon rolls
Wrap lunch
3 delicious richly filled wraps (1/3)
Wrap with farm cheese, egg salad and mixed lettuce
Wrap with grilled chicken, avocado, lettuce and sweet chilli sauce
Wrap with smoked salmon, herb cheese, cucumber and lettuce
Antoine lunch
1/5 wrap with various kinds of fillings including farmer's cheese, avocado, chicken curry salad
Tramezzini bread roll with e.g. salmon and carpaccio
Traditional breads with delicious assortment of dressings and local fillings of farm cheese, goat's cheese and cold cuts
Salads
The salads supplement the lunches and cost EUR 3.99 per person for a small salad (85 grams) or EUR 8.25 per person for a meal-sized salad (150 grams).  If you order a salad at lunch, order a sandwich lunch for fewer people.
Pasta salad: tomato, mozzarella, pesto
Caprese salad: tomato, mozzarella and basil
Smoked chicken salad: smoked chicken, egg, bacon, mesclun and avocado
Salad quinoa and lentils: grilled vegetables, home-made pesto and rocket salad
Salad niçoise: tuna, lettuce, capers, vegetables and egg
Caesar salad: lettuce, chicken, croutons, bacon and Caesar dressing and Parmesan cheese
Beetroot salad: with pesto and mozzarella 
Refreshments
If you would like to have a drink after your meeting (until 5.30 p.m. at the latest), you have the following options:
Soft drinks
If you prefer something other than coffee or tea, we can prepare a wide range of soft drinks for EUR 4.50 per person. 
Refreshments
You can also add beer and wine (white and red), crisps and nuts to your refreshments. This costs EUR 3.25 per person, on top of the EUR 4.50 for the soft drinks. 
Luxury drinks
We have an extensive offering of luxury snacks. For a quotation and complete overview, please contact us at zaalreserveringen@surf.nl. A selection from our assortment: 
Marinated scampi with a lime mayonnaise
Sushi with smoked salmon, sauerkraut and mayonnaise sauce
Bruschetta with mozzarella, fresh fig and basil
Amuse vitello tonato
Pork roast with red port candied plum
Wrap
Skewered grilled vegetables