Another SURFconext record: 7.2 million logins in first college week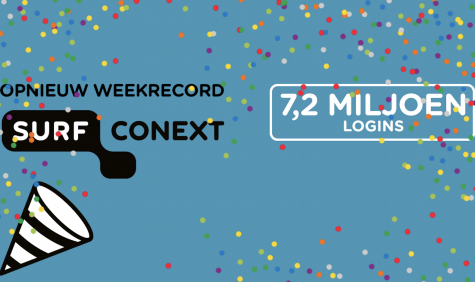 Day record: over 1.5 million logins
In addition to more than 7.2 million logins in the first week, Monday 6 September also set a new daily record for SURFconext. On this day 1,563,683 logins were made via SURFconext. At the busiest time of the day SURFconext processed over 3,071 logins per minute.
Improved digital accessibility for SURFconext
With so many users, it's important that everyone can log in easily and securely via SURFconext, including people with visual or motor impairments. This year we have therefore improved the digital accessibility of SURFconext (blog post, in Dutch). We have made several adjustments to the layout: the colour combination of the login screen has been changed so that people who are colour-blind can read the page more easily. The icons have also been provided with text alternatives, so that screen readers and Braille users can make use of them. In a regular browser you don't see the text. In addition, it is now possible to fully control the Where are you from screen with your keyboard. In the coming year, we will continue to improve secondary interfaces, applications and screens.
More information