Dutch parties build test environment for Gaia-X cloud services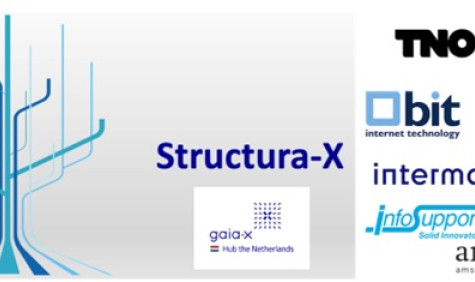 Towards a federated data and cloud infrastructure
Non-European parties largely manage Europe's digital infrastructure and data. In fact, the US now hosts more than 90 per cent of Western data. To counter this dependency, Gaia-X was established in 2020 with the aim of developing a federated data and cloud infrastructure. With this test environment, the Dutch parties are joining a project within Gaia-X called Structura-X.
Digital sovereignty in cloud landscape via Structura-X
Structura-X is an initiative of 28 organisations that want to set up their cloud services in full compliance with the Gaia-X guidelines. The Structura-X consortium consists mainly of European Cloud Service providers and Internet Exchanges. Within Structura-X, a federated ecosystem of independent Cloud Service Providers is being built that carry common certification and hallmarks to achieve interchangeability of cloud services. This will create more freedom of choice for customers of infrastructure and platform services and more digital sovereignty in the cloud landscape.
Realisation of a national test environment
With support from the Dutch Gaia-X hub, made possible by the Ministry of Economic Affairs and Climate, the Dutch parties will realise a national test environment. This test environment will initially be set up based on the open-source technology Kubernetes. BIT, Intermax and SURF will connect their independently managed Kubernetes clusters in combination with the open source project Liqo via private VLAN of the Amsterdam Internet exchange (AMS-IX). Info Support provides monitoring of this cloud federation test environment. TNO is providing the technical integration and validation of a number of technical use cases within this federated environment. Other cloud federation techniques will be added in later phases.
Phased rollout: from test setup to European test infrastructure
In this first phase, involved parties test in the test setup whether data and calculations (workload) can move from cloud provider to cloud provider (cloud portability). They also test to what extent capacities of different cloud providers can be combined (scale out).
In subsequent phases, the Dutch test environment will be linked to Italian, German and Belgian test environments to establish cloud federation principles across national borders. With the establishment of this European test infrastructure, cloud providers can offer Gaia-X compliant cloud services in an open ecosystem.
Interested in joining?
Are you a company interested in joining the follow-up phases? Get in touch at info@gaia-x.nl. Join and become one of the frontrunners in the next generation of European cloud services!