Erwin Bleumink and Jan Bakker hand over management responsibilities to new Board of Directors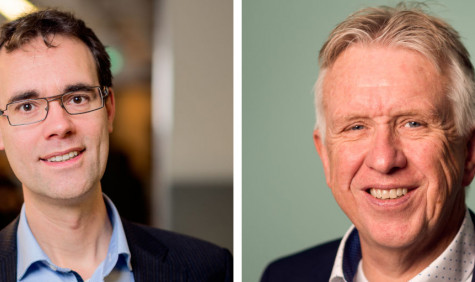 Erik Fledderus (read also: Erik Fledderus departs as director of SURF), Erwin Bleumink, and Jan Bakker have now handed over their management responsibilities to SURF's new Board of Directors: Jet de Ranitz (CEO), Hans Louwhoff (COO), and – as of September – Ron Augustus (CINO).
Erwin Bleumink – SURFnet figurehead and SURF innovator
Erwin Bleumink has made major contributions to the development of the Netherlands' digital infrastructure ever since 1997. He first led the GigaPort network infrastructure project, and has been the director of SURFnet since 2006. He has also been director of the SURF cooperative since 2015. By focusing his vision on innovation and collaboration, he has strengthened the Netherlands' leading position in digital infrastructure. Under his leadership, new ambitions – such as the faster digitisation of education – were also turned into action. His many other activities in national and international administrative bodies illustrate his drive to improve education and research at a global level.
Over the past year, Erwin Bleumink has been completely dedicated to SURF's reorganisation full-time. With his relentless enthusiasm and specific qualities that bring people together, he has made a significant contribution to a successful dialogue with members about new governance within the SURF cooperative.
Jan Bakker – founding father of SURFmarket
Jan Bakker is de founding father van SURFmarket en een marktmeester pur sang. Dankzij hem is Nederland vaak als lonkend voorbeeld voor de rest van de wereld gebruikt wat betreft licentiemodellen en samenwerkingen voor het onderwijs. Zijn werk heeft enorme voordelen en besparingen van tientallen miljoenen euro's op jaarbasis voor het Nederlandse onderwijs en onderzoek opgeleverd en successen voor leveranciers. Jan Bakker is zeer ondernemend, ziet overal kansen en loopt graag voor de troepen uit.
Some examples of his successes are years of unique and successful agreements with major ICT market players, the establishment of SURFspot, and the expansion of services with content, which has led to national agreements with major global publishers.
Jan Bakker has always been committed to the encouragement and innovation of supply and demand, and has made every effort to take efficient and lawful joint purchases for SURF members to the next level.
Final farewell in September
We would like to thank Erwin Bleumink and Jan Bakker for their many years of commitment to research and education. We are organising a lovely gathering to say goodbye to Erwin Bleumink, Jan Bakker and Erik Fledderus as directors in September. We hope that the applicable COVID-19 guidelines will allow us to make this event as pleasant as possible for everyone.
The SURF Supervisory Board
What happens in