Fast and stable network ring between Asia and Europe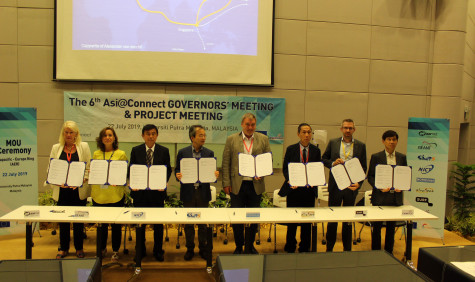 Memorandum of Understanding (MoU)
Today, 8 network organisations, AARNet (Australia), GÉANT (Europe), NICT (Japan), NII (Japan), NORDUnet (Scandinavia), SingAREN (Singapore), SURF (The Netherlands) and TEIN*CC (Asia) signed a Memorandum of Understanding at the 6th Asi @ Connect Project Meeting in Putrajaya, Malaysia. In the MoU, the partners have agreed to link their 100 Gbit/s connections to each other so that a robust and redundant network ring is created between Asia and Europe called the "Asia Pacific-Europe Ring" (AER). If a connection fails in the ring, the traffic between Europe, Asia and Australia will be transported across one of the other connections.
Redundant network ring between Asia and Europe
Earlier in June, an international consortium, the Collaboration Asia Europe-1 (CAE-1) which SURF is part of, launched a new 100 Gbit/s connection between Singapore and London for the benefit of research and education. At the same time, the Japanese IT institute NII implemented a 100 Gbit/s connection with the help of a Trans-Siberian cable system that connects Tokyo to Amsterdam.These two inter-continental links now comprise, together with the already existing Amsterdam-London link and the Tokyo-Hong Kong-Singapore link, the Asia Pacific-Europe Ring (AER).
More information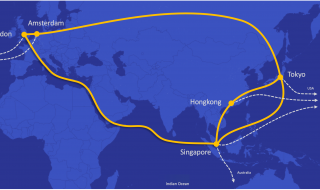 What happens in