King speaks about impact of coronapandemics on infrastructure, education and healthcare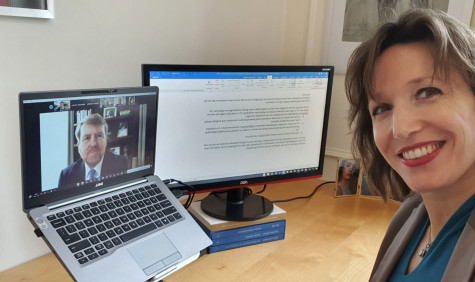 Led by DINL, a foundation dedicated to the digital infrastructure in the Netherlands, the discussion addressed the developments, threats and opportunities for the Dutch digital infrastructure and the effects of the accelerated transformation to digital working, learning, caring and acting.
Challenges posed by the corona crisis
King Willem-Alexander spoke with the participants about the challenges we have been facing since the outbreak of the corona- crisis. For example, internet use has increased by ten per cent, education has been rapidly converted to online education, but the attention of cybercriminals has also increased.
Videoverslag van het gesprek
The fear of ICT is now gone, but we experience a lack of connection
SURF is proud of the sector
Jet de Ranitz has told the king that he is proud of education and research. Of the rapid digital transformation that has been achieved, without any security incidents. She also drew attention to what is needed in addition to a good network and applications. Because although the fear of ICT is gone, we experience a lack of personal connection. The future demands blended education. In addition to an excellent infrastructure and a mix of ICT tools, this will involve digital didactics that, with ICT, will give the teacher more opportunities for customisation and development. That way, we keep all students involved and connected to the study programme and quality increases.
Continuing to invest to retain top position
It was also discussed that there is a strong relationship between economic resilience, digitalisation and good digital infrastructure. Digital innovation is an important driver for keeping the economy going. In particular, reliable and secure internet connections are an essential precondition for continuing to successfully conduct education, research and healthcare.
Thanks to more than 20 years of investment, the quality of the infrastructure in the Netherlands is very high. From sea cables to connectivity and digital skills. This can only remain so if the Netherlands continues to do so. Other countries are very active and it takes extra effort to maintain that top position.
King Willem-Alexander and Queen Máxima speak by telephone, in video calls and, where possible, during working visits with those involved about the consequences of the corona crisis and the efforts of so many to combat the pandemic.
What happens in