Minister Adriaansens launches test environment for superfast network technology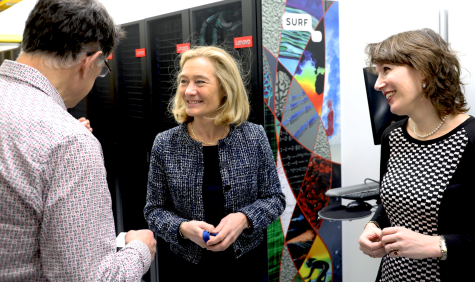 Next step in network technology
With this innovation roundabout, Dutch researchers are able to conduct research into the next generation of network technologies. Education and research have a growing need for bandwidth on the internet. Researchers want to share more and larger data sets quickly and securely across national borders. Network bandwidth plays a crucial role in this. To process these large amounts of data quickly, it is expected that 800 Gbit/s could become the standard. The innovation round makes it possible to experiment with new network technologies, such as currently extremely high network speeds.
Ron Augustus, Chief Innovation Officer of SURF: "By continuously innovating in the field of network technology and data transfer, we can, together with Nikhef, take the next step towards the future of superfast, sustainable internet and ensure that research and education in the Netherlands remains at the forefront of global developments."
 
800 Gbit/s standard
When 800 Gbit/s becomes the standard in the future, SURF will add this technology into the regular (international) network through the NetherLight node. NetherLight is the European hub for international light paths where education and research parties around the world exchange data traffic.
Through the innovation roundabout, we can get to grips with the techniques around 800 Gbit/s.
Tristan Suerink, IT architect Nikhef: "We see 800 Gbit/s as an essential building block for managing the deluge of information we will have to process in the coming years. The innovation roundabout gives us the opportunity to be well prepared, to cope with this data flow and to master the techniques surrounding 800 Gbit/s. We are very pleased to take on this innovation adventure together with SURF."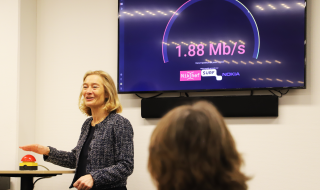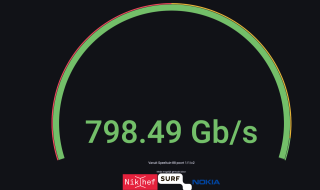 Shortly after the minister pushed the button, the speed went up from 1.88 Mbit/s to 800 Gbit/s.
Strengthening the Netherlands as a digital hub
With this innovation, SURF and Nikhef, together with the Dutch and international research community, are taking the next step in the field of network technology. The innovation roundabout contributes to strengthening the Netherlands as a digital hub for education and research. In time, we expect other sectors, such as internet exchanges, to also make use of these new technologies.
This test environment for high-speed communication reinforces the Netherlands' ambition to remain a digital leader.
Ambition and opportunities as a digital leader
Minister Micky Adriaansens (EZK): "Digitalisation offers many opportunities for progress, for people and our economy. This test environment of SURF and Nikhef for high-speed communication reinforces the Dutch ambition to remain digital leaders. With this research, we can improve our knowledge position when it comes to innovative digital infrastructure. It would be great if this yields good results and leads to opportunities for business and education, for example."