National Growth Fund awards MBO, HBO and universities EUR 560 million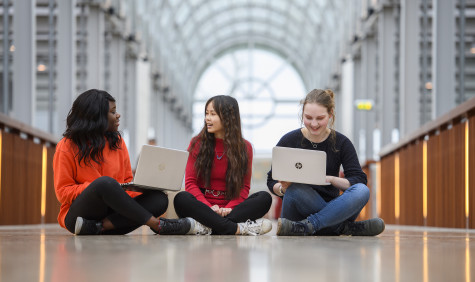 The educational institutions are joining forces to enable a system transformation in education, whereby, through digitalisation, on campus and online, education will be even better aligned with the continuously and rapidly changing society and educational needs.
"The job market increasingly demands people with digital skills," says Maurice Limmen, president of Vereniging Hogescholen. "This is about the connection between education and the labor market; it is very important that education can do more to teach digitalisation skills."
Objectives of the Digitalisation Impuls
In the Education Digitalisation Impulse programme, educational institutions are working together to improve the quality of education, increase the agility of education and improve the digital skills of teachers and learners. Investments are being made in a joint ICT infrastructure and a knowledge infrastructure for the sector.
In the first phase of the program, educational institutions each set up their own Center for Teaching & Learning. This is where teachers and their teams can go for advice and training on the (re)design of their teaching. The ambition is that all 113 institutions will have set up such a Center within the next eight years. In addition, two national transformation hubs will start where knowledge, innovation and development power of education, research, and public and private parties will be combined and experiments will be carried out together to solve complex problems.
Learners can more easily enroll in educational offerings from all institutions thanks to the program, and all study results can be found in one place. Agreements with publishers and libraries ensure that learners can find all their learning materials in one place. Learners and instructors can use digital facilities to improve the quality of teaching and learning without having to worry about privacy or security.
Pieter Duisenberg, President of Universiteiten van Nederland: "Digitization offers wonderful new opportunities for learning, teaching and research. Both on campus and remotely: audiovisual content, mixed reality, time- and location-independent learning and digital labs, which allow students to prepare for laboratory experiments. Only by sharing knowledge and joint investments can we take advantage of these opportunities."
Adnan Tekin, president of MBO Raad: "It is imperative that we as mbo, hbo and wo join forces in this. The labor market is constantly changing and with these growth fund resources we can ensure that we can continue to offer good education."
About the Digitalisation Impulse Education programme
The Digitalisation Impulse Education programme is an initiative of the MBO Raad, Vereniging Hogescholen en Universiteiten van Nederland in collaboration with SURF, the NRO, Student Organisations and other partner organizations. The Ministry of Education, Culture and Science was closely involved in the creation of the plan and is overseeing the progress of the project.