New 400 Gbit dataline tested for future CERN link
The tested connection is the first 400 Gbit per second line in the Netherlands and transports the equivalent of twelve DVDs of data per second
The test project is part of Nikhef's preparations for the arrival of enormous streams of measurement data that will come from the high luminosity LHC accelerator (HL-LHC) in a few years' time. This is ten times more intense than the current LHC accelerator. Now the line between Amsterdam and Geneva is suitable for data transport up to 100 Gbit per second.
In the 27 kilometer long underground LHC accelerator in Geneva, high energy protons are shot at each other for research purposes in order to penetrate the deepest particle world. By making the beams even more intense over time, up to ten times as many collisions per second will take place. This creates a tidal wave of measurement data with which physicists can test their theories much more accurately.
Nikhef at Sciencepark in Amsterdam is one of the data nodes in the world where CERN's data is stored and made available.
The Dutch test connection runs from Amsterdam via Utrecht, Delft and Leiden back to Nikhef's data center over a distance of about 250 kilometers. The test is partly financed by CERN. The same equipment will be used in the test that will eventually realize a heavy data line over a distance of approximately 1800 kilometers to Geneva. SURF has recently added FlexGrid technology to the network. This makes it possible to deal more flexibly with the light spectrum in the glass fibers, thus optimizing data transfer.
The fiberglass from SURF to Geneva has already been laid and is further optimized by distributed RAMAN amplification. For several weeks now, equipment has been installed that can handle the enormous amounts of data with minimum loss and noise. To this end, the equipment is being tested to the extreme in the 'Randstad area', says IT Architect Tristan Suerink of Nikhef.
At the particle institute there is client equipment that pumps the test data into the network at the required speed. The test is going well, says Suerink. We have been running at 100% load for a month, without any problems.
Later this year, the SURF line to Geneva will be ready for use and the first data will flow from CERN to Nikhef at the highest speed ever. It will also be the first international 400 Gbit per second data connection in the world.
The HL-LHC accelerator itself is scheduled to come into service around 2027 after major improvements to the current LHC accelerator, which is already the largest in the world.
This message appeared earlier on the website of Nikhef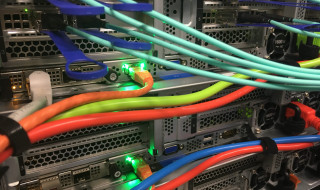 What happens in