Niels van Dijk wins GÉANT Community Award 2020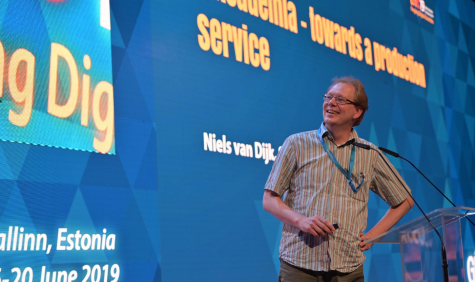 Driver of innovation
Van Dijk is involved in many projects for the GÉANT community and was at the cradle of services such as eduTEAMS and InAcademia (the latter in collaboration with Leif Johansson of SUNET). According to the jury, Van Dijk's creativity plays a decisive role in initiating new activities in groups such as REFEDS (Research and Education FEDerations group), the GÉANT project, and SURF. His passion and knowledge are great assets to the GÉANT community.
Collaborating with a global mindset
Van Dijk: "It has been my great pleasure to work with all the people in the GÉANT-community in the past years. GÉANT brings together amazing minds, highly skilled people and the opportunity to actually make their ideas reality, all in an open and collaborative community. This is a unique and wonderful capability which we should foster and support. By acting locally, but always with a global mindset, joint collaboration of the NREN-community will deliver impact that reaches far beyond our national borders."
Jet de Ranitz, Chairwoman of SURF's Executive Board: "Niels wins the GÉANT Award for his innovative ideas and contribution to their implementation in an international context. He thus serves education and research in the Netherlands. It goes without saying that we are very proud of this. We think it's great that he and the international work to which more people in SURF contribute are being put in the spotlight in this way".
More information
What happens in