Six new pilots awarded in DCC for practice-based research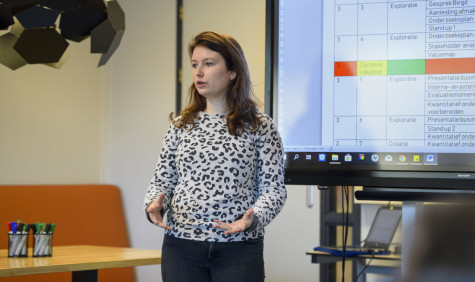 Awarded pilot projects
All the proposals submitted were assessed by an assessment committee comprising four universities of applied sciences. Proposals were assessed in terms of their fit with SURF service development, feasibility, impact, and relevance to other universities of applied sciences. The Assessment Committee indicated that all the pilot proposals were closely related to SURF services and that it was keen to encourage initiatives in those areas. It therefore recommended that all six pilot proposals submitted be approved. The SURF Executive Board followed that advice and granted funds to six universities of applied sciences to carry out the pilot projects.
The pilot projects awarded funding are:
1. HAS Hogeschool - SMART Sensordata Infrastructure
A number of professorships at HAS University of Applied Sciences use sensor data. In their research they regularly encounter the problem that the data infrastructure does not offer enough possibilities to efficiently and effectively store the real-time sensor data from the various field labs and make it widely applicable for the lectorate research. This pilot focuses on the description and design of a workflow for sensor data and a metadata model, so that the sensor data is suitable for reuse and can be applied to various research questions.
2. Avans Hogeschool - Data in privacy-sensitive practice-based research
In this pilot Avans University of Applied Sciences will work with Virtual Research Environments (VRE) for the collection, storage, processing and collaboration of privacy-sensitive data within applied research. Together with researchers, data stewards and legal experts, Avans University of Applied Sciences will map out the requirements. The aim is to develop a template for a data processing agreement (DPA). The pilot will also test two VREs, namely the SURF Research Cloud and anDREa infrastructure, with the aim of finding a proof-of-concept for cloud-based solutions for privacy-sensitive data within applied research.
3. Hogeschool Leiden - Open science made practical: joint support for RDM workflow in the existing practice of the research cycle
In this pilot project, Leiden University of Applied Sciences will set up a workflow that helps researchers make research data accessible and available to third parties. An important aspect is how the University of Applied Sciences can optimally coordinate centralised and decentralised research support and how the workflow can be anchored in existing practice and their RDM protocol.
4. Hogeschool Rotterdam - Creating a data fabric through easy-to-use cloud computing
This pilot aims to support teacher researchers and professors in the application of Data Science within research programmes and minors. Data Science and Computational Science students will work with research data from the knowledge centres. For this purpose, Hogeschool Rotterdam
Rotterdam University of Applied Sciences will use the SURF service Jupyter Hub so that students can work with the research data without having to install anything. In this way, cloud computing is introduced in a low-threshold manner within the minors and lectureships. The pilot thus builds a bridge between education and research. In this pilot, Rotterdam University of Applied Sciences will explore both the classical application of Jupyter Hub by using this service for Natural Language Processing and Computer Vision education, for example, and more innovative applications such as the use of Azure AI services.
5. Hogeschool Utrecht - Data-intensive research on the reporting of the war in Ukraine
Utrecht University is working on a case study in which the news coverage of the war in Ukraine is mapped with the help of an analysis on the Global Database of Events, Language and Tone (GDELT) 2.0. The GDELT 2.0 is an open database with data from news media and social media in more than 100 languages. In this pilot project we will be making GDELT 2 data accessible and usable in SURF Research Cloud. The goal is to implement SURF Research Cloud as a platform for data analysis in the projects that arise from the SPRONG Responsible AI. The intended result is a series of tutorials in which we explain the possibilities of data analysis on the SURF Research Cloud and make them reproducible. The explicit aim is to arrive at an approach that can be used both within and outside the thematic area of media.
6. Hogeschool van Amsterdam - Exploration (and proof of concept) of setting up a data stream for reporting and analysing the motor development of Amsterdam primary school pupils
The research group Exercise in and Around Schools of Amsterdam University of Applied Sciences collects data from Amsterdam primary school pupils to gain insight into their motor development. This is a database that is periodically supplemented with new data from a third party. It is a continuous monitoring process in which the database is continuously expanded and from which new research questions and insights may arise. In this pilot, we will explore how we can set up the data flow (including proof-of-concept) in order to perform trend analyses and report to cooperation partners such as the municipality of Amsterdam and the schools.
Role of SURF
The national DCC for applied research is supported by the universities of applied sciences. SURF has a supporting role, for example in the form of funding and supervision of pilot projects in the field of research data management and virtual research environments. The knowledge generated by the pilot projects will be consolidated in the national DCC for applied research. SURF also facilitates the universities of applied sciences by providing or (co)developing training courses.
Knowledge products from previous pilot rounds are available at https://wiki.surfnet.nl/display/DPO/Producten+SURF+Pilots
More information:
For more information about the Digital Competence Centre for Applied Research, please visit: https://www.surf.nl/digital-competence-center-voor-praktijkgericht-onderzoek