Snellius one of the 6 greenest supercomputers in the world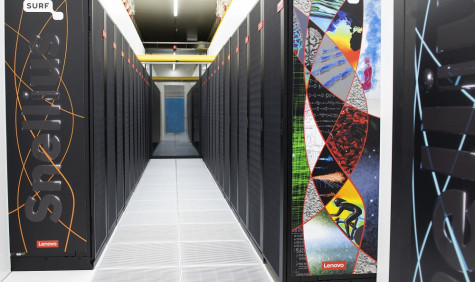 The TOP500 and Green500 were announced on 15 November during the international supercomputing conference SC21. Snellius has two different rankings: one for the part with GPU-nodes and one for the part with CPU-nodes. Snellius is in fact a 'heterogeneous' system with on the one hand CPU (central processing units) based thin nodes, fat nodes (more memory) and high memory nodes (lots of memory), and on the other hand GPU nodes (graphics processing units).
This allows us to optimally serve our various user groups. For example, by using the latest generation of GPUs, the computer is very well suited to machine learning. The national supercomputer is not designed to achieve the highest possible score in the Top 500, but to be broadly applicable to Dutch science.
14 billion calculations per second
Snellius is accessible to all Dutch scientists and is managed by SURF. Queen Máxima officially inaugurated the supercomputer on 16 September. The system will be expanded in phases over the coming years and will eventually reach a peak performance of 14 petaflop/s (or 14 billion calculations per second).
Energy-efficient
An important requirement for SURF was that the new supercomputer should be as energy-efficient as possible. The water-cooling technology used cools the system down by up to 90%, requiring far less air cooling with fans. This reduces energy consumption and increases performance at the same time.
Following a tender process, SURF chose Lenovo at the end of 2020 to build the new national supercomputer. It will be built on the basis of Lenovo ThinkSystem servers with AMD EPYC™ processors (the latest generation, 7H12, and a future generation) and the latest generation NVIDIA GPUs (A100).
The supercomputer has been financed to the tune of 18 million euros by the Ministry of Education, Culture and Science (via NWO) and 2 million euros from SURF's own funds.
More information: https://www.top500.org/