SURF and Nikhef collaborate on innovative GPU powered compute system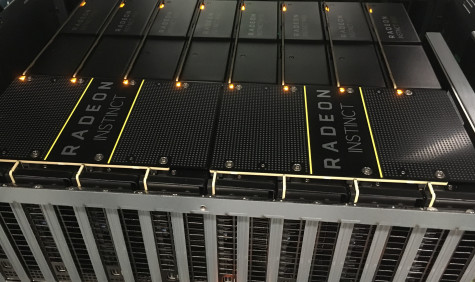 Accelerate
Since 2018, SURF has enjoyed a long-standing relationship with AMD to experiment with the company's most advanced technologies. The current project is also being carried out in collaboration with the Dutch National Institute for Subatomic Physics (Nikhef). The system is being hosted at Nikhef and forms the heart of this new computational collaboration of experimental research.
"An important objective of SURF is to evaluate new IT concepts and technologies to determine the usability and applicability for researchers," says SURF's IT consultant Sagar Dolas. "By experimenting with innovative technologies, we are discovering new opportunities for accelerating research in the Netherlands."
Win-win  
"We consider this a win-win situation for all parties involved," says Nikhef's IT architect Tristan Suerink. "AMD will gain valuable feedback from real-world research projects in the scientific community while discovering mission-critical requirements of researchers. From our perspective, we benefit from the added value of using innovative accelerator-based technologies on our workloads allowing our scientists to advance their calculations thanks to the performance of AMD's GPUs."
"Designed to deliver high levels of performance, we're excited that AMD accelerators are enabling SURF and the Nikhef data center to support ongoing scientific research within an open, flexible ecosystem," said Brad Mccredie, Corporate Vice President, Data Center GPU and Accelerated Processing, AMD. "AMD Radeon Instinct, supported by the AMD open ecosystem software, offers outstanding performance on scientific workloads with a highly parallel computing architecture."
Moving forward
Graphics processors were originally developed for the game industry, where fast image processing is key. In addition, GPUs are increasingly being used for scientific calculations, including astronomy, particle physics and other demanding research projects.
SURF offers access to the national computer facilities for research and education in the Netherlands. "We are eager to see how Dutch research may benefit from AMD's latest GPUs. The project, which has been in preparation for a year, is a great opportunity for SURF to gain more experience with various computing methods," says Sagar Dolas. "Whether the project is artificial intelligence or experimental research, we understand that there's a critical need to process more data. We want to do this in an effective and sustainable way and expect that graphics processors will play an important role moving forward."
During the first weeks of the project, Nikhef researchers have already become acquainted with the new cluster. They are involved in CERN's LHCb particle experiment, which last month decided to begin graphical computations, putting AMD's technology to the test right out of the gate.
Growing interest
The expectation is that graphics-powered computation use will continue to evolve widely in scientific research over the coming years. "While there's still more testing required, we hope to take a leap forward by offering this experimental cluster and the associated support, including training and workshops," continues Sagar Dolas. "From departments in astronomy, chemistry and biology, we see interest growing rapidly for this innovative approach as a computing resource. For example, these graphics cards are being used to develop methods for finding new COVID-19 medicines more quickly."
The new GPU-based cluster is now open to all Dutch researchers. Access can be requested via www.surf.nl/en/get-access-to-experimental-systems.