Team I'm not a robot wins SURFcert's Capture the Flag 2022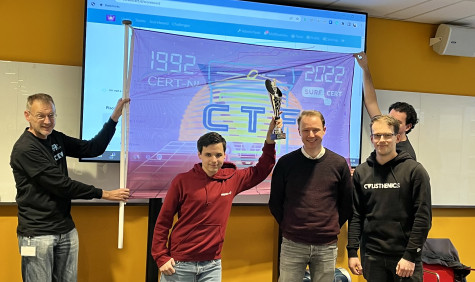 42 IT-security-related challenges
This year, the competition was again organised at the SURF office in Utrecht. On 9 December, 21 teams were in the starting blocks at 09:45 to compete for the coveted CTF game flag. To do so, they had to solve as many of the 42 IT-security-related challenges as possible within 5.5 hours.
The challenges were divided into a number of categories: Intro, Crypto, Encoding & Decoding, Binary, Forensics, Cracking, Web, Networking, Nerd, and Miscalleneous. A total of 5,450 points could be earned. In addition, the first 3 teams to solve a specific question could earn extra points. Each edition of CTF has a different focus area. This edition's theme was "1992 / SURFcert 30 years". This edition also featured a number of physical tasks. Among others, participants could open a safe by lockpicking, decipher a Christmas tree with LED lights that hid the flag with a Morse code.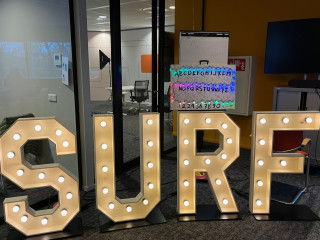 Another physical task was the Stranger Things board that played a message like a Ouija board. After the lyrics to Never gonna give you up by Rick Astley, the flag also came up.
Exciting battle
After half the game time had elapsed, the battle for the CTF game flag was mainly between the teams I'm not a robot (Radboud University), Holmes (Netherlands Forensic Institute) and WaalWaves (Radboud University). In the last 15 minutes, the scoreboard went into freeze mode. The battle continued, but the standings were no longer updated live for everyone. This gave strategic players a chance and it also created extra tension until the end.
I'm not a robot captures the flag
In the freeze, the positions of the top three did not change: team I'm not a robot kept its lead and eventually took the victory with 4,099 points. Second was team Holmes with 3,585 points and third place went to team WaalWaves with 3,510 points.