The Value Compass as discussion tool for the digital transformation in education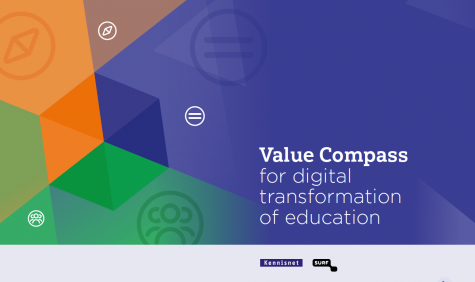 Download the Value Compass for digital tranformation of education
New digital possibilities require the discussion of the values central in educational practice
Digital transformation in education contributes to values such as effectiveness, accessibility, ease of use and efficiency. But it also leads to new challenges, such as how dependent are we on data? Who manages data? What IT facilities should we develop/organise together instead of purchasing them from market providers? Developments such as datafication and the increasing dependence on dominant market providers increase the importance of discussing this with each other.
With the discussion of public values we can set the stage for the design, procurement, and deployment of new technologies. By doing this the educational field can gain and keep control over the digital transformation.
Justice, autonomy, and humanity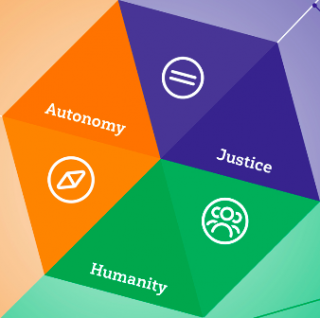 The three main educational values that are central to the Values Compass are justice, humanity and autonomy. Beneath these core values, all kinds of other values can be identified that are important for educational practice in the light of digitisation. Both SURF and Kennisnet facilitate local, national and international conversations about how public values can be protected. The Values Compass stimulates the explicit discussion of those values.
Thinking through the lens of public values
Discussing public values is an excellent way to gain insight into the dilemma's within the digital transformation of education. It makes varying consequences for stakeholders more explicit and shows the dynamic interactions between different values. In decision-making processes there will always be a weighing of different values, as not all values are uniformly compatible.
The conversation about values helps to ensure a deliberative process with well thought out conclusions. The Value Compass can help emphasize shared values, discuss their definitions, and where those values might be threatened by new digital technologies. Having these conversations helps in steering the digital transformation of education in line with the public responsibility of Dutch educational institutions.
Already headway is being made on all levels of education. Within the Value Compass you will find examples which showcase how public values can help gain control over the digital transformation.
Download the Value Compass for digital tranformation of education
Want to know more?
SURF and Kennisnet have worked with experts to develop the Value Compass to facilitate this discussion within education and research. The Value Compass is an initiative for the development of a common language. The framework is not about the content of education and research but helps to discuss the values that are important in the digital transformation of education and research.
More about our public values activities
Discussion with board members in education and research on public values