Will you win the Data Mover Challenge?
Exploring the limits of data transfer
Many groundbreaking research projects require the worldwide sharing of enormous amounts of data or computation. Think of data on weather, space travel or medicines. The National Supercomputing Centre in Singapore is therefore issuing the Data Mover Challenge to experts from industry and research to explore the limits of big data transfer over large distances and at high speeds.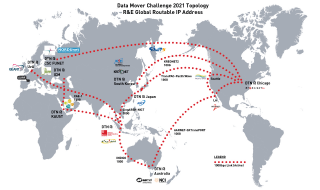 Infrastructure available from SURF and the UvA
As partners in the challenge, the UvA and SURF will make their infrastructure available. For example, the 100G network connections to Singapore, Japan and the Transatlantic System ANA can be used. Moreover, as a participant in the challenge you will have access to Data Transfer Nodes (DTNs) including the UvA-managed DTN in Amsterdam. These super-fast DTN servers have been specially developed and configured for the fast transport of big data. In Europe, the connections are connected via SURF's NetherLight node.
More about the Data Mover Challenge
Would you like to know more about the Data Mover Challenge, or register your team now?  https://www.nscc.sg/data-mover-challenge-2021/