SURF Research Day
GET ON BOARD!
Mark your calendar for SURF Research Day 2023. It's the national conference that connects research, IT and innovation. The event takes place on May 23rd 2023. It's free!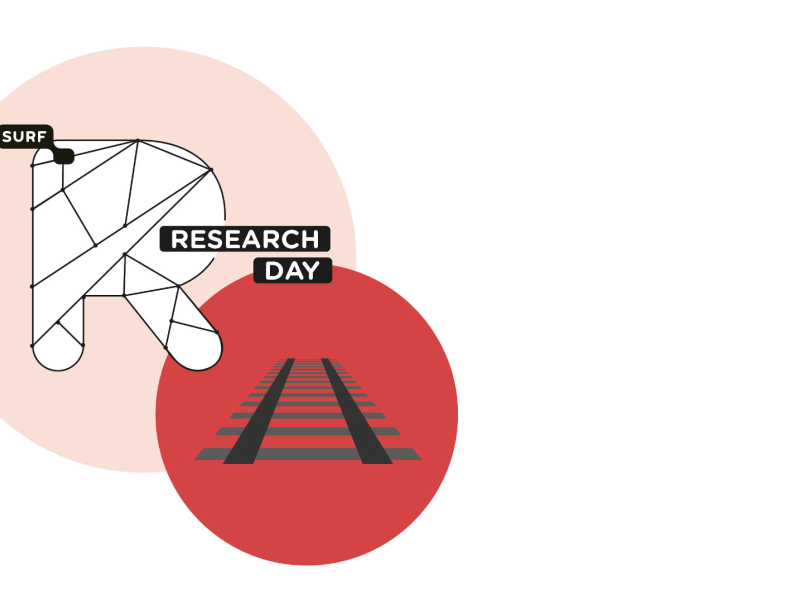 Programme - Fast Track Festival
Catering plein 'Stationszijde'
Experience the exciting components of Fast Track Festival! Immerse yourself in a diverse range of poster presentations, booths, demos, lightning talks, an escape room for you to participate in, and an expertise tables where you can engage in conversations with professionals from SURF on a variety of topics and services. Don't miss out on this opportunity to discover, learn, network and have fun with like-minded professionals! 
You can take a break and pick what sessions you want to attend in three rounds of 15 mins! Starting times: 14.20 - 14.40 - 15.00 hrs.
Things to do at the Fast Track Festival from 14.10 - 15.30 hrs
| Location | Type session | Title |
| --- | --- | --- |
| Postwagon 1a | Lightning talk | Demo 'GeRichte Interventies' in Pain Studies |
| Postwagon 1b | Lightning talk | Results  DCC-PO projecten |
| Postwagon 2a | Lightning talk | Bridging the gap: hosting Linked Open Data for researchers |
| Postwagon 2b | Lightning talk | Quantum cryptography for researchers |
| Werkwagen | Lightning talk | A digital research environment for every researcher |
| Houtwagon | Connecting expertise | Shape the future of Research |
| Wachtkamer 1 | Escape room | Gamification of education |
| Wachtkamer 2 | Lightning talk | Geo Data Team at the Faculty of Geosciences of Utrecht University |
| Type session | Title |
| --- | --- |
| Booth | Talk to the eScience center |
| Booth | Unleashing the power of Snellius |
| Demo | Get on Board with XR |
| Expertise table | Cloud |
| Expertise table | Easy & secure access management |
| Expertise table | Research data management |
| Poster session | Creating Open Science awareness in nine European universities |
| Poster session | Exploring Quantum Power for your Research |
| Poster session | Get started with Publinova, the new platform for practice-based research |
| Poster session | Re-use of confidential data |
| Poster session | Reimplementing YoDa as an Internal Data Archive for Geosciences (DAG) |
| Poster session | Twi-XL: Using SURF data infrastructures in humanities research |
All events in