Statistics and highlights SURFconext in 2021
SURFconext has grown substantially again in 2021. The total number of logins via the service was again higher than in 2020, at over 251 million. The number of unique users also rose again in 2021. View all figures in the infographic, read more about the new SURFconext API Security functionality and watch the retrospective of What's Next @ SURFconext.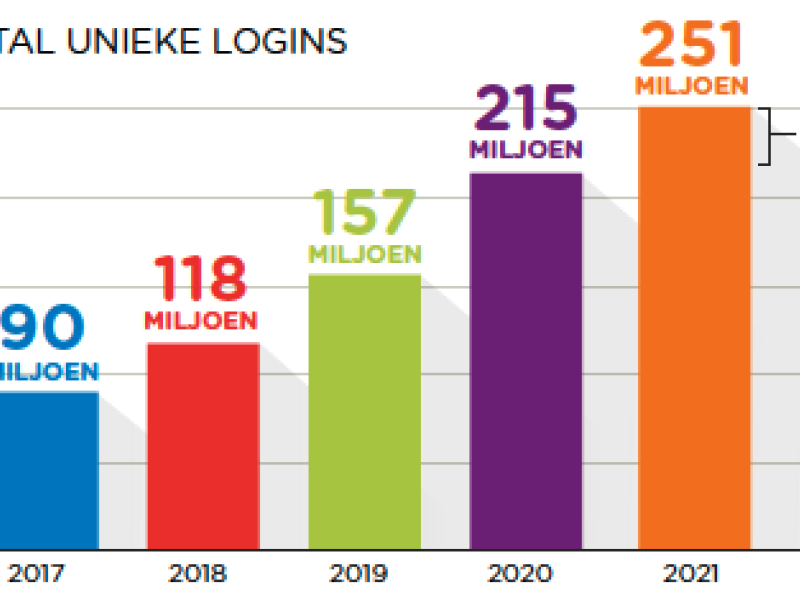 SURFconext: considerable growth again
In 2021, the number of institutions and unique users increased again compared to 2020. This increase was largely due to zelftestonderwijs.nl, the website where students and staff in secondary vocational education, higher education, and research can log in using SURFconext to order free self-tests. We have linked a number of new mbo-institutions to SURFconext. And with more than 7.2 million logins in the first week of the academic year, we set another record in 2021.
SURFsecureID: more than 10 million logins
The use of SURFsecureID also rose sharply again in 2021. More and more institutions and users make use of this two-factor authentication service to log in to services with extra security. In 2021, the number of users rose by 48% and the total number of logins exceeded 10 million! Furthermore, we see an increase in the number of logins via Azure MFA tokens.
Statistics SURFconext 2021
New in 2021: SURFconext API Security
In 2021 we introduced a new functionality: SURFconext API Security. This allows institutions to protect their institutional APIs, which they use to make data available for mobile apps or for other institutions, via SURFconext. Examples include the student information and timetabling systems. Logging in to an institutional API is therefore just as safe and reliable as logging in to a regular service that is connected to SURFconext. Even if the user comes from outside the institution.
Read the UvA/HvA SURFconext API Security use case
SURFconext matter explained in 1 minute
The SURFconext team has recorded short films in which they briefly talk about topics related to SURFconext: InAcademia, remote vetting, attribute minimisation, European Student Identifier (ESI) and the Service Provider dashboard.
Retrospective What's Next @ SURFconext 2021
On 10 June 2021 an online edition of What's Next @ SURFconext took place. It included a SURFconext update by Femke Morsch (SURFconext product manager) and short talks on subjects including Self Sovereign Identity (SSI) and MFA. Klaas Wierenga, Chief Information & Technology Officer at GÉANT, also gave a keynote on international developments in the field of Trust & Identity. Wim Biemolt, network engineer at SURF and chairman of SURFcert, updated everyone on the subject of security, particularly on the theft of credentials by cybercriminals and how institutions can better guard against this.