Study trip: Learning Analytics – a broad playing field at institutional level
The team of the zone: "Secure and reliable use of educational data" took a study trip to the United Kingdom. There, they visited eight universities in England and Scotland that use educational data to improve their educational processes. A report.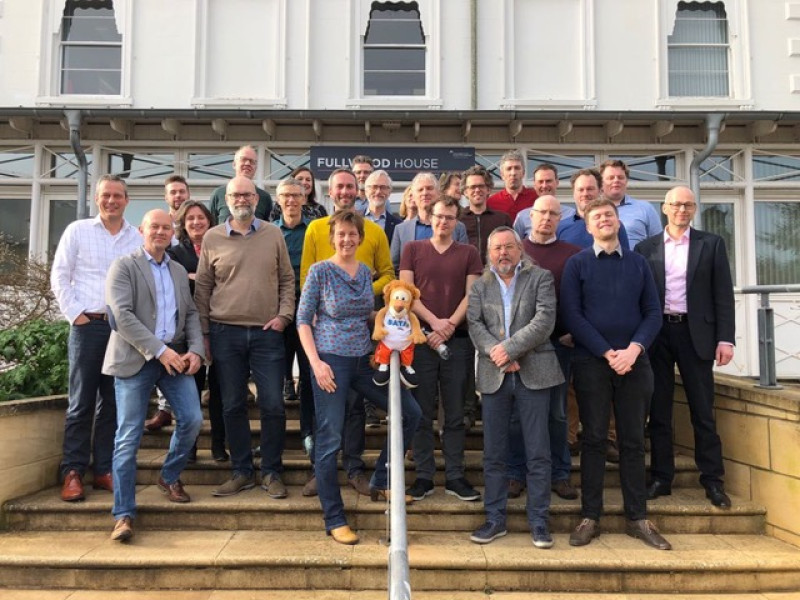 During this trip, we experienced different aspects of the use of educational data. The universities we visited made different choices, and they provided new insights. Some institutions focus their study data on students, others on teachers and tutors. Some universities carry out small-scale local experiments, others have institution-wide initiatives or are involved in nationwide cooperations. However, nowhere is there a standing policy on the use of study data throughout the institution.
This model from Northumbria University impressed us tremendously: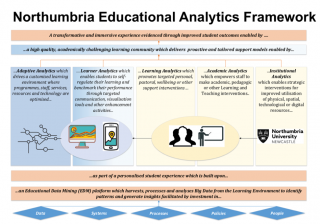 It gives an impression of the comprehensive use of educational data, and shows that you have to address all aspects. At the same time, it also makes clear that you cannot do everything at once. It is important to uphold discussions within your institution about which choices you make and why.
Success factors in the introduction of learning analytics
We have learned that an important success factor in moving forward is a vision of what you want to achieve with educational data. That vision is about the value that you as an institution want to add with and through the use of data. Such a vision cannot only be limited to technology, it must also address culture, students, teachers and the educational concept.
The use of learning analytics requires a change of culture within an institution. It is important to take this into account. During this study trip, we saw some very nice examples of how IT departments work together with the education sector.
We also saw that a topical problem can cause projects with educational data to take off in an institution. The use of educational data to prevent study downtimes at almost all the institutions we visited has a major financial motive. However, the context of Dutch higher education is very different from that in the United Kingdom. Funding is different. For example, universities in the UK are fined for students who drop out. In addition, the quality of the institutions in the Netherlands is much more similar. In the Netherlands, student satisfaction, work pressure and ranking seem to be of particular importance.
The institutions we have visited are data-driven institutions. This has evolved from different motivations and approaches. All institutions want to transform education by using data. What is striking is that they do not use educational data to settle the bill. They choose a positive approach to take institutes, teachers and students to a higher level. Creating a sense of data awareness is the first step in achieving this in an institution. And that doesn't just appear out of nowhere. In order to understand what data can mean, you need to use it first, in research projects or in educational experiments. It is recommended to start small, experiment and allow failures.
You can only make progress with learning analytics if you do the research into the relationship between what you do and what it produces in education. You should consciously create data points and not blindly use all available educational data. And of course, a good infrastructure for data collection is a must.
Finding and retaining the right people
All the institutions we visited had a good team of enthusiastic and knowledgeable people. People who really make a difference. Such as a Chief Information Officer (CIO) who puts things in order in the data landscape, a rector who sees the importance of data or a data specialist who comes to work in the team. The concern of the Dutch participants in the trip for their own institution was whether they would be able to find and train the right people when working with educational data. Data analysts make a much better living outside education. You can only train your own people, but that takes time and space. It is important that this not only concerns IT and data specialists, but also knowledge about education and change. After all, the use of educational data is an educational theme, not an IT project.
Learning Analytics – collaboration at a nationwide level
The United Kingdom may be ahead of many institutions in the Netherlands in the use of educational data, but in our opinion we are not talking about light years. The administrative incorporation of educational data in universities may seem greater in the United Kingdom than in the Netherlands, but an analysis of what is needed at national level seems to be lacking. Dutch higher education is well placed in this respect, with intense cooperation in the field of educational innovation, within SURF and within the Acceleration Plan Educational Innovation with IT of SURF, the Association of Universities in the Netherlands (VSNU) and the Netherlands Association of Universities of Applied Sciences (VH).