Successful pilot with eduroam Visitor Access
Institutions can set up a temporary account for visitors to access the eduroam network on their campus, thanks to eduroam Visitor Access. Wageningen University & Research (WUR) uses this service. Marco Otte, service manager at WUR: "Using eduroam Visitor Access we can easily give our visitors access to our wireless network."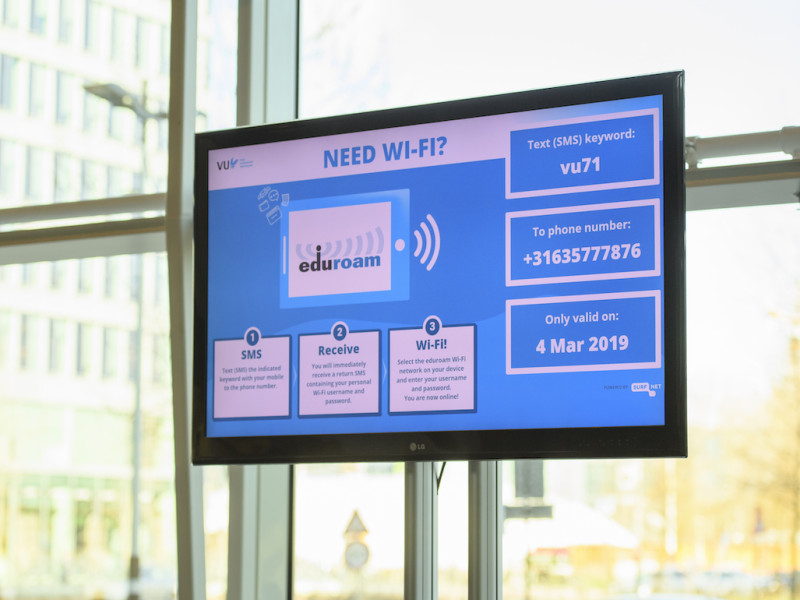 Pilot eduroam Visitor Access
Since July 2016, Wageningen University & Research (WUR) has been using eduroam Visitor Access to give their visitors temporary access to the eduroam network on their campus. WUR started with an initial pilot in March that only made eduroam Visitor Access available in a few buildings. Marco Otte, service manager at WUR: "The pilot was a success, so we decided to offer eduroam Visitor Access at all locations."
Wireless network access for guests to use
What made WUR start using eduroam Visitor Access was that the previous guest access system needed to be replaced. Willy Herder, manager of the wireless network at WUR says: "Our old Cisco system was out-of-date, both technically and functionally. With eduroam Visitor Access, we have a user-friendly way to make our wireless network accessible to visitors. One benefit is that you do not need any extra hardware. And the less management needed, the more I like it." "Eduroam Visitor Access is something employees are already familiar with," adds Otte. "Many colleagues already know eduroam from when they themselves visit other institutions."
Access via text message or temporary user account
To receive access to eduroam, visitors can request a temporary eduroam account without needing to involve a WUR employee. Pretty much all WUR buildings display notices explaining this in three steps. The visitor sends a text message with a code and then receives a user name and password which he can use that day to access eduroam. "This text message functionality is what is used most often, and appreciated the most," says Herder. "In four months, around 4,300 accounts have been requested in this way. In addition, eduroam Visitor Access has been set up for 39 meetings during that period." In this case, it is a WUR employee who sets up a temporary text-message event in advance, with a specific code of the day, such as "open day". Visitors can submit this code of the day in a text message and will then be given a temporary eduroam account.
Text message code on the intranet
Any employee can give a text message code to his visitors. During the pilot, it transpired that employees preferred to have the code handy to give to their visitors. "It's a nuisance to have to walk over to reception and you can't put up notices everywhere in the building," explains Otte. "We therefore also made the text message functionality available via the intranet. There was a bit of trial and error involved until we got it working well for everyone, but now that is used a lot."
Users
Many of the WUR researchers collaborate with commercial companies. This is the largest set of guest users. Otte: "Using eduroam Visitor Access, we can easily give these visitors access to our wireless network." In addition, maintenance workers or engineers also make use of eduroam Visitor Access, as do guests and overseas students.
More information
To find out more about this service go to eduroam Visitor Access
For further information about eduroam and eduroam Visitor Access, please contact Florian Draisma, Product Manager Network Services.