Privacy and technology: they do seem to get along after all
In her role as Privacy Officer at SURF, lawyer Floortje Jorna acts as a part of our conscience. Because today's technical possibilities are hardly comprehensible anymore, and yet we strive to use them all. But do we actually have to want to do everything that we can do?
"That's an interesting question," says Floortje. "Actually, that's exactly what I deal with every day. As an IT organisation, we naturally want to innovate. All the time. But if developments follow each other at a rapid pace, you can easily lose sight of the risks of your urge to innovate. And privacy is perhaps the biggest risk at the moment."
Making a positive difference
Floortje: "In the technical field in particular, privacy now sounds like a lot of hassle, like an obligation. "You can't do anything anymore", "we can't save any useful data anymore". It would be nice if, for example, we could put more emphasis on the opportunities of privacy for educational institutions. Because there are quite a few! You can provide students or researchers with a safe environment in which they do not have to worry about their data. That's how you can present yourself as a reliable party."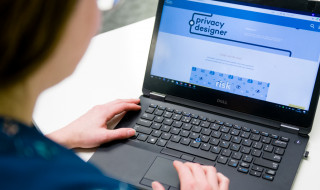 Social impact
On behalf of SURF and together with Privacy Company, Floortje was closely involved in the development of the Privacy Designer: an online tool that helps SMEs, associations and organisations identify privacy risks and choose appropriate privacy strategies.  The tool won a Dutch Privacy Award on 28 January of this year. This is what the jury said: Convenient to use, innovative, and the social impact is great.
Freedom of choice and insight
"That price is the proof: you can also be innovative with privacy," says Floortje. "The tool helps you to protect your users as far as possible, from identity fraud to spying. And – by handling privacy well – you can offer freedom of choice and insight. That's great when you look at it like that."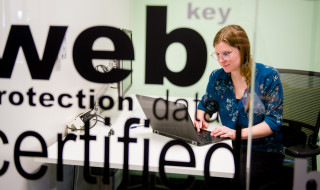 Pride
"It's a subject that concerns me, and that's why I found it to be very special to work on this project. I'm proud that, with a small team, we've created something good in a short period of time that can really help organisations to develop new, online products."
Interesse in meer persoonlijke verhalen over de impact van onze innovaties?