SURFdrive: store and share your files securely in the cloud
Store, synchronise and share your documents easily with SURFdrive. SURFdrive is a personal cloudservice for the Dutch education and research. Your documents are kept safe and sound in our communitycloud. 
SURFdrive for users
SURFdrive is a personal cloud storage service for Dutch education and research with which you can easily store, synchronise, and share files. You can do this in the safe and reliable SURF communitycloud.
Secure and easy data sharing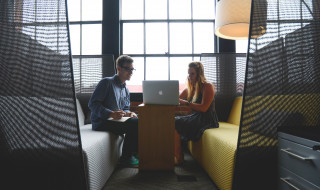 A secure alternative to commercial cloud storage services is now available for users in Dutch education and research. SURF offers the SURFdrive service, which we developed with and at the request of universities. SURFdrive makes it easy to synchronise files and share them with other users. Secure within a community cloud and with a large amount of storage space. With SURFdrive, SURF complies with European privacy legislation. For example, SURFdrive has terms of use that guarantee safe use, whereby you remain the owner of your own data. The data is stored securely in the Netherlands and is never passed on to third parties. In addition, SURF does not provide any user data to third parties.
500 GB storage
Each user is provided with 500 GB of storage space. Offline sync allows you to access your files from anywhere at any time. It is also possible to give guest users access to files. The data is sent encrypted over the networks.
Ask your institutional helpdesk for access to SURFdrive
Institutions in the education and research sector purchase the SURFdrive service and manage user access themselves. Do you also want access to SURFdrive? If so, please contact your institution helpdesk.
Has your institution given you access? Now you can easily log in to SURFdrive via SURFconext. Now you get access to your data with your own settings account. SURFdrive is accessible from all common computers, tablets and smartphones based on Windows, Linux, OS X, iOS and Android.
SURFdrive at a glance
offline synchronization; you always have your files at your fingertips
easy and secure file sharing within education and research
document sharing with guest users
real-time insight into changes made to documents by others
optimization for use with smartphone and/or tablet
backup & recovery of 30 days
availability of 99.5%