SURFfilesender: send large files securely and encrypted
Want to send and receive files quickly, securely and easily? With SURFfilesender, you can send large files, such as research data. The files are stored in the Netherlands. Encryption provides added security.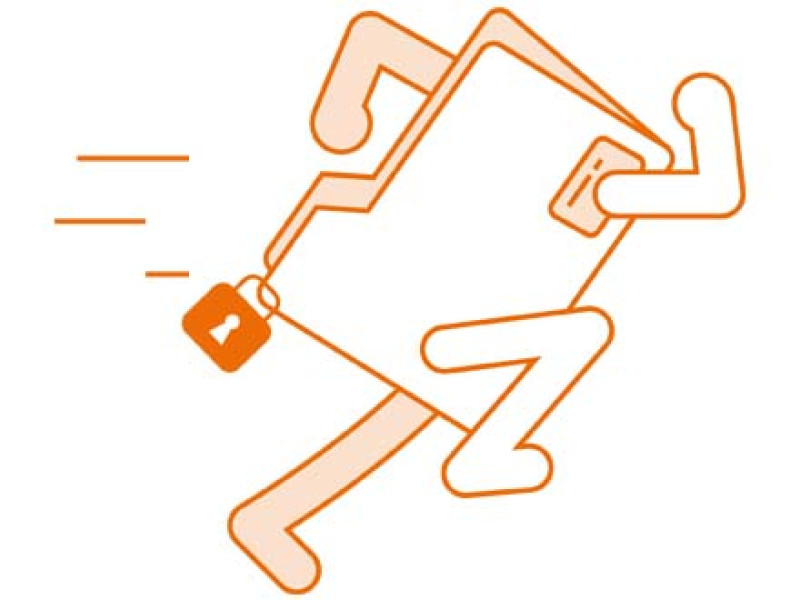 FAQ SURFfilesender
On this page you can find Frequently Asked Questions about the service SURFfilesender. Is your question not among these FAQ? Ask the IT-helpdesk of your institution.
Can I use SURFfilesender?
You can use SURFfilesender if your institution has acquired a SURFfilesender licence. When you log in to SURFfilesender, you are presented with a screen where you have to select your institution. If your institution is not listed, your institution doesn't have a SURFfilesender licence. Please contact your own institution's helpdesk to see what your options are. 
What is the maximum file size per upload in SURFfilesender?
The maximum file size per upload via HTML5 is 1 TB. All modern browsers support HTML5. If you use encryption, then the maximum file size is 2 GB. If your browser doesn't support HTML5, but Adobe Flash, then the maximum file size per upload is always 2 GB. Use another browser or update your browser to be able to send larger files.
How long are uploads available? Can I extend the period?
By default, your files are available up to 14 days after sending. Not long enough? Adjust this period manually to a maximum of 3 weeks.
Do I need a special browser to download files?
No, you can download uploaded files via SURFfilesender using any modern, up-to-date browser. There are no additional requirements for downloading files.
Does SURFfilesender have an API?
Yes, SURFfilesender has an API. First log in to SURFfilesender, then you can use the API. The restriction here is that you must have a valid browser session and you can only use the REST API interface through the same browser session.
What should I do if I have a problem logging in?
If you have a problem logging into SURFfilesender you should contact your institution's helpdesk.
How can I use encryption to make my data extra secure?
To use encryption for added security, tick the 'encryption' box on the upload page. Come up with a key (password) that you can easily remember and contact the receiver after uploading and sending your files to pass on the key. We advise you do this via a different channel than e-mail, for example by telephone or SMS. As soon as the receiver enters this key they can download the files. The encryption and decryption of files is done by the browser during uploading and downloading. Additional software is not necessary. Warning: to use encryption your upload has to be less than 2 GB.
I interrupted the uploading of a file. Do I have to start over again?
You can resume an interrupted or cancelled upload. To do this you have to re-send the same file with the same name. SURFfilesender recognises the file by its name. Once your upload has started you will see the progress bar start where the previous upload stopped.
I made a few last-minute changes to my document. Can I immediately resend it again?
Yes, you can. However, we advise that you rename the document before resending to be sure that all your changes have been correctly transferred.
How can I see if my file has uploaded successfully?
When uploading a file, you will see a green tick once the file has been successfully uploaded. This tick will only be visible if you are using an up-do-date browser that supports HTML5.
The recipient didn't get my files. What should i do?
Ask your recipient to check his junk mail. There he will find the email from SURFfilesender with the download link.
Check your overview in 'My transfers'. Can you find the uploads? Check whether you have entered the correct email address.
I accidentally sent a file to the wrong email address. Can I block the downloadlink?
No problem. Log in to SURFfilesender and then go to the 'My Files' tab. Here you have the option to delete one or more files. The recipient will receive a message that the file is no longer available.
Can I use SURFfilesender to exchange files with people who have no SURFfilesender subscription?
Yes, you can. Using SURFfilesender you can send files to anyone you wish, including people and organisations without a licence. As a SURFfilesender user you can send these people a 'voucher' to upload/send files to you.
I don't want my files to be forwarded to third parties. Can I prevent this?
No, that's not possible. You can set a notification for when your files are downloaded. Also check your transfer overview. Here you can see how often your uploads have been downloaded and by which email address.
Who is responsible for the processing of my personal data within SURFfilesender?
Your institution is responsible for the processing of your data.
SURFfilesender is a service provided by SURF and can be purchased by educational and research institutions within the Netherlands. Institutions can then offer SURFfilesender to their users (mostly students, researchers and employees of that institution). Personal data are processed when using this service. The institution that purchased SURFfilesender is legally accountable for the processing of this personal data and SURF has the role of processor on behalf of the institution. For questions about the processing of personal data your institution is the first point of contact.
Which personal data does SURFfilesender process?
We process the following personal data:
first name
last name
e-mail address
organization (because it is usually in your e-mail address)
log data
IP address
subject of sent file
subject of sent voucher
subject of downloaded file
filename
eduPersonTargetedID (a random string that SURFfilesender uses to distinguish you from other users)
e-mail address of receiving user
How long do you store my personal data?
We do not store your personal data longer than is necessary for the delivery of the SURFfilesender service and no longer than is required to comply with legal obligations.
We store personal data that we process for the correct operation of the service (logging, back-up facilities, etc.) for a maximum of 4 months.
Who has access to my personal data?
Only the administrators of the service have access to your personal data. They only use this information if necessary to provide you with services around SURFfilesender.