Talking plate Digital learning resources: a flexible and rich offering for teachers and students
Isn't it great if teachers and students will soon have access to an optimal mix of digital learning materials? Regardless of where the materials come from and whether they are paid or free. So what will the cycle from development to deployment of those learning materials look like?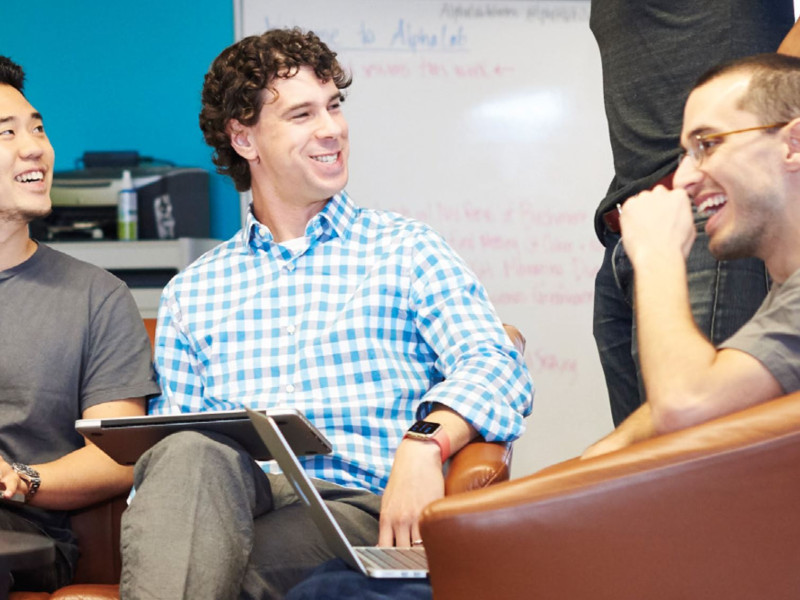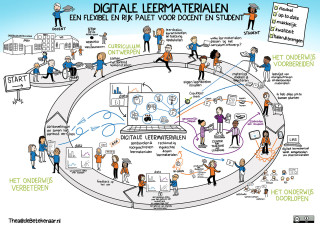 The cycle
Note: On the talking plate, the stages of the cycle follow one another for clarity. In practice, they sometimes intertwine and the process is not always linear.
Start of the cycle
At the start, you will find lecturers with different backgrounds, from MBO, HBO and WO. They work with students every day, to prepare them for the labour market. They do so in consultation with companies, public organisations and professional communities of lecturers.
Curriculum design
The basis for digital learning materials lies in curriculum design. Teachers jointly define learning objectives, learning activities and assessment. They also involve the students, who determine their own learning objectives. Based on the curriculum design, the learning materials are compiled that students are offered and from which they can choose the materials they want to use.
Preparing the teaching
In the preparation phase, teachers search for and select the learning materials. They also develop reading lists of prescribed and recommended learning materials. Students then select which learning materials they want to use. This may also include parts of learning materials, such as chapters from books or parts of software.
Going through the learning process
As they progress through the learning process, students access the learning materials that are right for them. Data are collected on the use of learning materials. If this shows that materials do not meet requirements, teachers can modify or supplement them.Students can also make additions: a good thesis or other educational product can be added to the collection of digital learning resources after a plagiarism check via NL Bron.
Improving education
At the end of a course or semester, the teaching can be improved. Students give feedback on the teaching and the learning materials used in various ways. Based on this feedback, instructors take action: they adapt learning materials or make recommendations on others' OERs.
On digital learning materials: composition and use
In the centre of the talking plate you will find the digital learning materials themselves: they take centre stage. A rich, up-to-date and flexible set of legitimately sourced and Open Educational Resources that can be accessed by instructors and students in one place. Think e-books, articles, software, serious games, videos, VR or AR applications.
Composition
The educational institution, companies, public organisations and professional communities of instructors are closely involved in compiling the range of educational resources. But individual teachers and students can also add learning materials. At all stages of the cycle, the educational institution, teachers and students can add and use learning materials.
Quality of learning materials
Learning materials are made easier to find by assigning and recognising a quality rating to them. By rating and liking learning materials and by teacher or student experiences with learning materials, the quality is made clear.
Support
The institution's Center for Teaching & Learning provides support when adding or using digital learning resources. The centre combines various areas of expertise: educational knowledge, ICT expertise and expertise in selecting, applying and archiving learning materials.
Free and paid learning materials
Learning materials can be free or paid for. Free (open) materials can be used freely after a copyright check. For paid learning materials, a licence is often purchased collectively, for example through the institution's Centre for Teaching and Learning. Students can also purchase or rent an item individually.
Access via online environment
Teachers and students each have their own online environment that provides access to the digital learning materials. The learning materials chosen by the teacher are offered in the environment where the teaching is done. The student himself chooses which learning materials meet his needs, in the form that suits him best.
Work in progress
The vision of digital learning resources is not yet complete. A number of questions remain open, such as:
How can we best organise the management of the range of learning materials?
What do we arrange nationally, what per institution, what per faculty and what per (group of) study programme(s)?
How do we optimally link up with educational (change) processes, such as flexibilisation?
What does the funding model look like in more detail?
Do you think along with us?
If you have ideas or additions, we would like to hear from you. Mail to Lieke Rensink, at lieke.rensink@surf.nl. In the coming years, we will further develop the future vision on digital learning materials within the Npuls programme. If you would like to stay informed, please sign up to the edusources community.