Annual Overview 2018
SURF in 2018: New records, new challenges: SURF's Annual Overview 2018 provides an overview of the activities and results of collaboration within the SURF cooperative.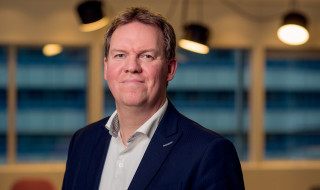 Nearly 100 SURFacademy meetings
3,733 participants were inspired by current ICT themes for education and research professionals. Read more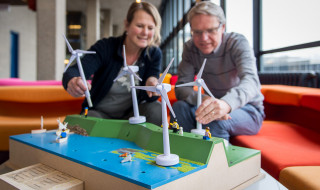 Green ICT and Sustainability: more green
Together with various institutions, we looked at how we can make things more sustainable in the areas of green electricity, e-waste and socially responsible purchasing of ICT.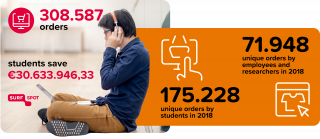 Students save 30 million euros with SURFspot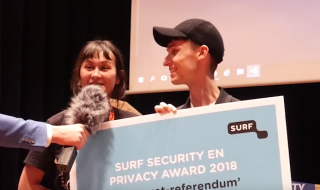 Award ceremony: SURF Security & Privacy Award 2018
In 2018, five Amsterdam students received the SURF Security and Privacy Award 2018 for the 'Sleepwet referendum' (a referendum on a new intelligence law for the Dutch intelligence and security services).
OZON large-scale cyber crisis exercise
Fifty institutions participated in the OZON crisis exercise. Read more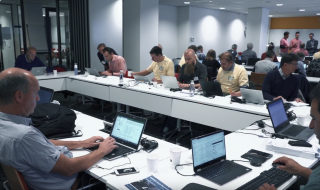 Network
eduroam in more than 100 countries worldwide
The eduroam network is available at 1,500 locations in the Netherlands and at 25,528 locations worldwide. Read more
SURFnet8: the network of the future
Within Project SURFnet8, SURF is working on the further development of the permanent part of the national education and research network. Read more
SURF test 5G in Groningen
SURF is investigating potential applications of 5G for educational and research institutions. Read more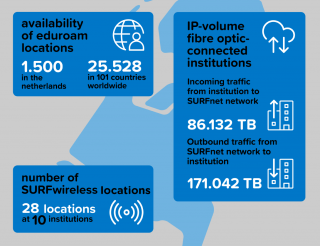 1.5 million users of SURFconext
New SURFconext record: more than 3.6 million logins in the first week of classes. Read more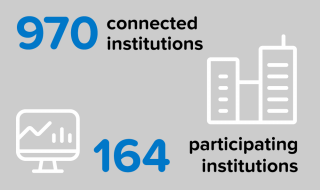 347 million hours logged on the National Supercomputer
311 researchers used the Cartesius supercomputer. Read more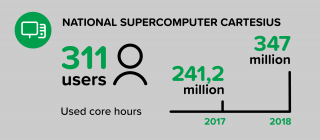 HPC Cloud: 435 virtual machines per day
Together, researchers used 15.6 million core hours. The maximum measured amount of stored data was 261 TiB. Read more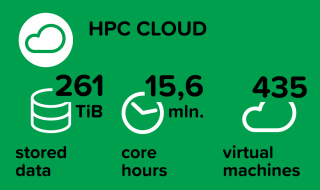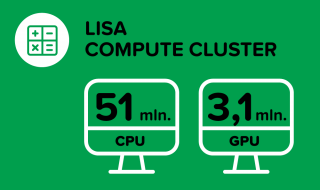 Large-scale calculations with Lisa Compute Cluster
Researchers used 51 million core hours on the CPU cluster (core processing units) and 3.1 million core hours on the GPU cluster (graphics processing units). For example, to train computers in recognising tumour tissue. Read more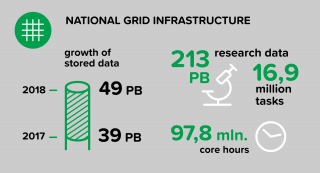 Grid: data of astronomical proportions
Researchers processed 213 PB of research data, for which 16.9 million tasks were performed during a total of 97.8 million core hours. Read more
Sharing knowledge about open science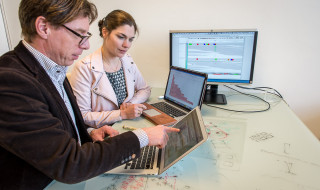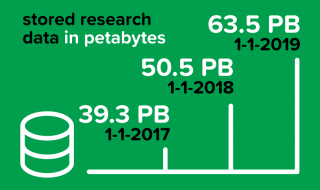 Data Archive continues to grow
At the end of 2018, 63.5 PB of research data were stored on the Data Archive. That is a growth of 13 PB compared to the year before.
New services provided in 2018
Object Store
Object Store is an online storage service for storing large amounts of research data. Read more
Research Drive
Research Drive is for research teams that want to store and share large amounts of data. Read more
eduVPN
eduVPN makes unfamiliar networks secure by setting up an encrypted connection. Read more
MBO-Lat
MBO-Lat (LAT in English: Educational Resources Analysis Tool) gives institutions in the senior secondary vocational education (MBO) institution sector greater grip and insight into educational resources.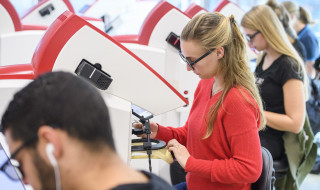 60% more visitors to auteursrechten.nl
You can find information about copyright issues and related laws and regulations on auteursrechten.nl. Read more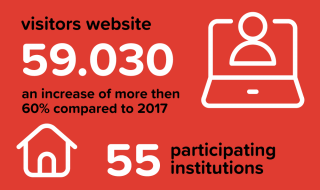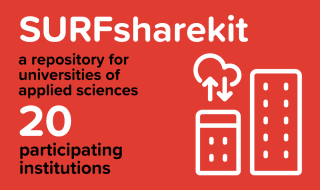 20 institutions use SURFsharekit
With SURFsharekit, you can store research publications, graduation projects, and OERs digitally and sustainably. Read more
40 institutions to get started with the Acceleration Plan
The Association of Universities, the Netherlands Association of Universities of Applied Sciences and SURF have jointly drawn up the four-year Acceleration Plan for Educational Innovation with ICT. Watch the video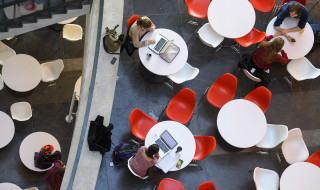 Looking back on the Strategic Plan 2015-2018
SURF's Strategic Plan 2015-2018 gave direction to the collaboration between the institutions within SURF during this period. Each year, the themes of this Strategic Plan were translated, together with the institutions, into annual plans with concrete results. Read more