SURF 2-Year Plan 2021-2022
The SURF 2-Year Plan is the outcome of an intensive dialogue with members and between sectors and describes the plans for 2021 and 2022. It is an ambitious and consistent plan that enables institutions to work together on shared priorities and allows room for differences between the sectors.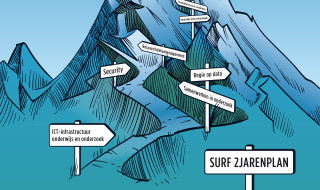 SURF 2-Year Plan 2021-2022
SURF 2-Year Plan 2021-2022
Ambitions of members and priorities
The members have high ambitions. They want their researchers to work together safely both nationally and internationally, so that they can achieve an excellent performance and offer their students the flexibility they need to develop their talents. The members of the cooperative have set priorities for their collaboration within SURF for each sector in 2021 and 2022.  These priorities are the basis of the SURF 2-Year Plan for 2021-2022, and are clustered into the following 7 themes.
Establishment of the SURF 2-Year Plan 2021-2022
In 2020, together with the members, we drew up the 2-Year Plan 2021-2022, as a concrete elaboration of the Multi-annual Agenda 2019-2022. We worked according to a sectoral approach.