SURF Strategic Plan 2019-2022
In its Strategic Plan, SURF sets out its strategic ambitions, themes and goals for 2019 to 2022.
Ambitions and plans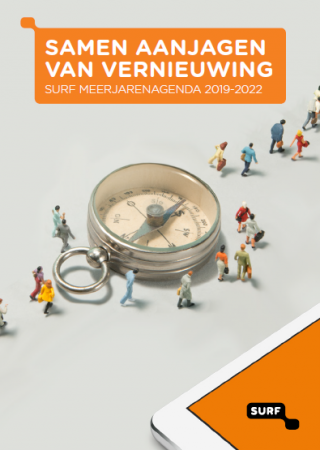 SURF has set out its ambitions and plans for the period 2019-2022 in the Surf meerjarenagenda 2019 - 2022 (PDF). The challenges in the field of education and research are vast. Working together and joining forces is the best strategy to deal with these developments and challenges.
Annual plan 2020
For SURF, 2020 is about creating one transparent organization that is efficient and effective. In terms of governance as well as in terms of internal and external collaboration. The 2020 annual plan is in line with this. It contains the themes from the SURF Strategic Plan and activities to which SURF intends to give further impuls  this year. As well a description of their value for education and research in the Netherlands. The cooperative facilities are also described in detail.
Paper edition of the Strategic Plan
Send an e-mail to communicatie@surf.nl to receive the paper edition of the Strategic Plan or the special Strategic Plan edition of SURF Magazine (available in Dutch only).