The wire-free campus
In the coming years, the need for wireless on campuses will only increase.  Together with institutions, we want to arrive at 1 joint network architecture.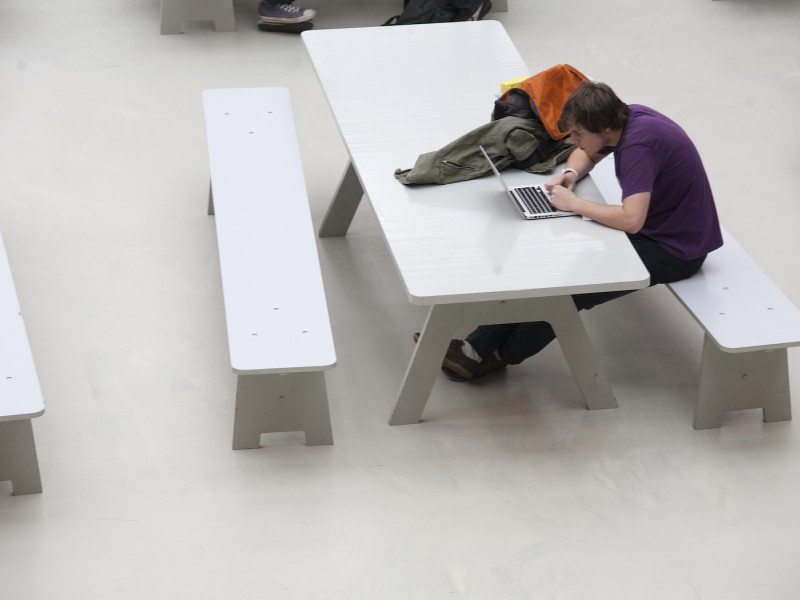 Archi - platform for Open Scientists
How can we enable all researchers to work with specialist tools quickly and effectively? Without them resorting to commercial services that appropriate the research data? The answer is Archi: a network where scientists share experiences and access open tools and data.
Researchers are increasingly facing challenges far beyond their field of expertise. This is due to the growing role of IT in all areas of science. Many a biologist must master sensor technology, many a historian data analysis, and there are countless other examples. These technical hurdles are raised even further by requirements like privacy protection and FAIR data.
The unsought challenges tend to gobble up large chunks of the available time: a PhD student may lose years on them. Moreover, they pose risks of errors or data loss.
Things would go better with expert advice and suitable tools. Usually Google is the main advisor, because the academic world does not excel in transparency. After all, scientific research is organized as a market where one competes for budget by being the first to publish a result. The growing number of proponents of Open Science are waging an uphill battle to reverse that status quo. If researchers collaborate at all, it is usually with peers. Tools and practical expertise are not widely shared, neither within nor among faculties.
Of course, there are all kinds of initiatives in the academic world to develop good tools and services especially for researchers. But it is often difficult for these to penetrate to the end user because he or she isn't aware of their existence and can't gauge their functionality or reliability. Services from large market players are found sooner and used more widely. And that is a growing danger, because universities risk losing control over their research data and research processes.
Archi is different
What makes Archi different is that we take the user as our starting point. We set up the platform as a network for researchers. We then link data and services to it in one coherent, well-organized environment. This makes Archi a bridge to the users for the tools and services being developed in the Dutch academic world. And at the same time a platform for Open Science.
For what does the network entail? In short: sharing materials and experiences. Researchers can see in Archi how other researchers work, because they can put everything online: not only preprints and raw data, but also workflows, algorithms and data management plans. In short, everything researchers produce.
It is not a problem if their research led to negative results, because that fact may also be of value to other scientists. And even if the research didn't result in a paper, parts of it may be reused by others and the creators can score with that. As well as by sharing their experiences, for example in the selection and use of appropriate tools or efficient methods.
The combination of these functions makes Archi a platform for their academic identity, a place where they receive recognition from their peers for their contributions to the scientific world.
Such a platform for truly Open Science may then also play a part in a more measured system of valuing and rewarding.
Is it feasable?
Of course, we are not the first to want to create a network for scientists. All kinds of market players are working on this: everyone wants to monitor science and bind researchers to them.
Can universities regain the initiative? And create a platform on their own terms, under their own control?
We think it is possible, if we act quickly enough. After all, only the universities combine basically all the elements of what we have in mind: they hold all the cards. And much of the material is already online. It just needs to be brought together in an environment where the whole becomes more than the sum of its parts.
The corona pandemic increased the willingness of researchers to learn from each other, as everyone was suddenly forced to start teaching online. Good practices were shared and eagerly applied.
We can capitalize on this new openness if we ensure that – as in education – interaction becomes our central focus. The Dutch academic community is both small enough and large enough to get Archi off the ground soon. In the SURF Cooperative it has a platform that provides the necessary technical and organizational expertise.
If Archi catches on, it can grow quickly. Even far beyond the borders of our country, because the problems and needs are shared worldwide.
Where to start?
In principle, a concept like Archi offers endless possibilities, but they will only be realized step by step. So where is the best place to start?
In answering this question, too, we must put the end user first. That's why we've conducted market research, partly through interviews, partly on LinkedIn. We looked at how visitors reacted to a presentation of our plans: which items were clicked on?
The results were beyond expectation. Usually, students and researchers are not very active on LinkedIn, but we registered 150,000 people – mainly in the Netherlands and France – who showed an interest in Archi. The data is still being analyzed, but the following results are already clear.
Everyone – from students to professors – wants to find the right, most efficient tools for specific tasks more easily.
Students are primarily looking for people who can give them advice.
Novice researchers want to build a network of useful contacts and learn how to e.g. submit a data management plan.
Established researchers would like quick access to research data of others, even if those others are not part of their own network or that of their superiors. So without having to apply for access first.
They would also like to collaborate on the development of research tools. This willingness is shared by commercial parties.
These research results show the 'low hanging fruit' on the demand side of Archi. On the other side, that of supply, there will be existing services that may be quickly incorporated.
What will it take to realize Archi?
The research confirms that there is a real need for a platform like Archi. It may help solve problems that both researchers and policymakers struggle with.
We want to build it the same way all successful IT projects have been: scaling it up as soon as possible and learning from our experiences. In short, as a start-up of the SURF Cooperative.
A network like Archi isn't rocket science. The technology is there. The tools and data are often already online. The investment required for development and hosting is therefore feasible. For the longer term we have set up an earnings model in which management and further development are paid for out of current operations.
What we need above all, however, is support: if the universities adopt Archi, the scientific community can take a giant step forward.