Use case: Visualisation as an aid to genetic research
Genetic research is an interdisciplinary field involving biologists, medical specialists, geneticists, neuroscientists and psychologists. Dr. Niels Cornelisse, Assistant Professor at the Center for Neurogenomics and Cognitive Research (CNCR) at VUmc, aims to improve communication between the various disciplines by using visualisation.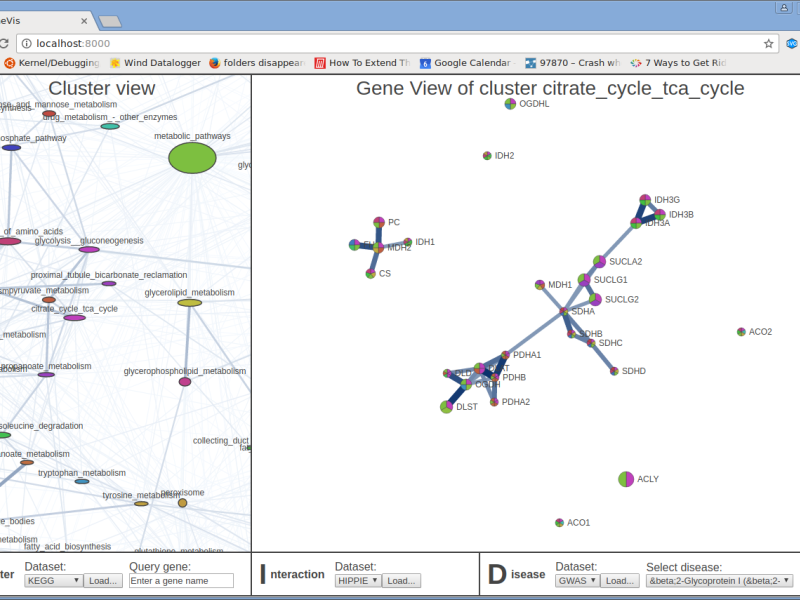 Synaptic Computation
Cornelisse heads a research group for synaptic computation: "We mainly focus on the synapses, which are the connections between neurons. That's where information is transferred between neurons by signal substances called neurotransmitters. We study the mechanisms involved in this. Improper functioning of these mechanisms can lead to diseases."
Genetic networks
Cornelisse's research group is currently working on a method to improve the understanding of complex genetic networks. "We are interested in the molecular mechanisms involved in signal transmission between neutrons", explains Cornelisse. "These molecules are coded by genes. There are roughly 2,000 proteins that are expressed in the synapses. Our idea is that the proteins cooperate in networks. If you know how that works, you have a better understanding of pathways, that's to say the biological processes in the brain. Insight into genetic networks is also important for understanding diseases. Many diseases have a genetic origin, but the conventional idea that there is a specific gene for each disease is false, particularly with brain diseases. With some diseases a whole host of genes are involved, all of them a bit impaired."
"We are interested in the molecular mechanisms involved in signal transmission between neutrons"
Statistical analysis
Researchers have to use statistical methods to determine which genes are involved in specific processes. This research focuses on clusters of genes instead of individual genes, says Cornelisse: "You have a lot fewer of them, which makes the statistical tools much more powerful. We start by putting a lot of genetic data on a single platform so we can visualise the questions we are examining. Then we look at the P values, which indicate the significance of the impairment of a particular gene in patients with a particular disease. The lower the P value, the higher the probability of a connection. For the pre-processing we use the Genetic Cluster, which is part of the Lisa national compute cluster."
"Our aim with visualisation is to create a bridge between the biologists, who have a lot of information about the genes, and the psychologists and geneticists, who have a lot of information about the patients and their gene profiles."
Interdisciplinary bridge
Visualisation helps researchers with different backgrounds communicate on topics such as the genetic origin of diseases. "It works very intuitively", says Cornelisse. "For example, suppose we see a specific cluster of red tints. We investigate further to see which genes are involved and what the problem is. Our aim with visualisation is to create a bridge between the biologists, who have a lot of information about the genes, and the psychologists and geneticists, who have a lot of information about the patients and their gene profiles. Visualisation makes it easier for people from different backgrounds to talk with each other."