Introduction to open educational resources
Developing learning materials is time-consuming and expensive. There are many benefits to be gained if you work together. By using other people's learning materials, you can enhance your own teaching. This Introduction to open educational resources (OER) explains what OER are, how you can use them , and how you can structure your own materials.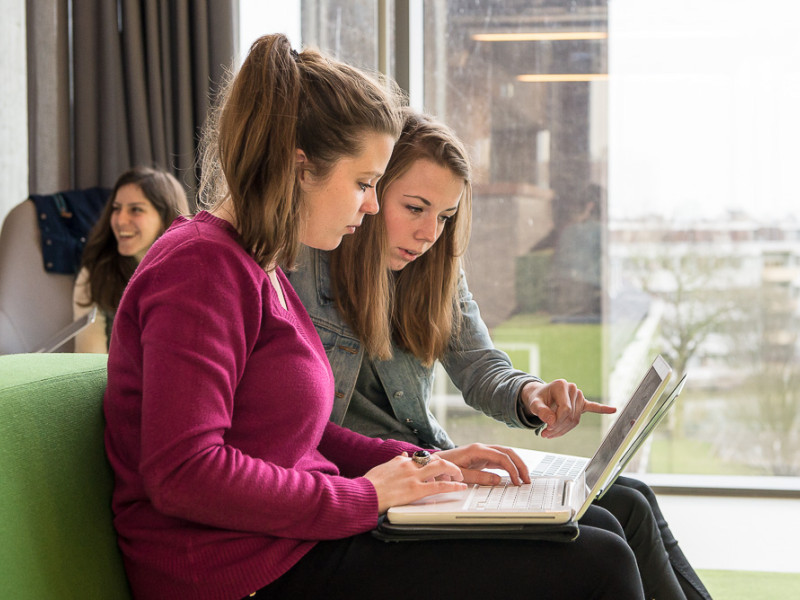 Using other people's open educational resources
Does it take you more time to find useful learning materials than to make something yourself? Do your search terms fail you in Google? There are special search engines for open educational resources for lecturers and students. How do you rate the materials you find in terms of quality? And how do you apply them properly?
We explain this in three steps:
Search & find
Assess
Adapt
Step 1. Search & find
Everything that is used in education is a learning material. These materials can therefore come from anywhere. You can find them via a general search engine, a research repository, or a repository specifically for education.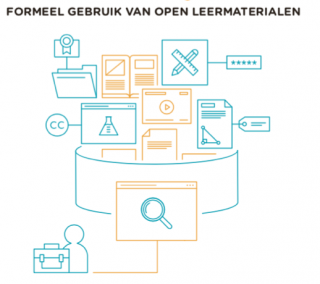 Search engines
There are many different types of search engines on the Internet. The best known are Google and Yahoo.
General search engines
In most search engines, you can set your search to find only material that can be re-used. For example, with Google this can be done via Advanced search > Usage rights. There are also search engines for certain types of content, for example, specifically for instruction videos on YouTube or 3D images on Sketchfab.
Education search engines
There are search engines, such as OERcommons, Merlot and edusources that search specifically within series of lessons and complete collections of open educational resources. These search engines help you assess the quality and relevance of the materials. Use the Internet too; it's full of suitable learning materials.

edusources
Of the above educational search engines, edusources is a very special one that gets special attention here. edusources was developed specifically for Dutch higher education and functionalities are tailored to the situation in the Netherlands.
Search
In edusources, you can search easily and quickly. Initially by using the search bar, but if you have a better idea of what you're looking for, you can immediately filter by level of education, language and type of resource. You can then refine your search results even further, for example by language, educational institution and subject area.
Communities
Communities also create collections of OER around a specific theme. You can find these collections on the Communities page of edusources. If you would like to add a community collection to this page, please contact us at edusources@surf.nl.
If you wish to set up your own community or build up a collection of OER with an existing community, then use the Roadmap for a Professional Community of Open Educational Resources.
Repositories
There are different types of repositories that you can use in your search for good learning materials:
Question
Does your educational institution have its own repository? Find out and contact one of the library's collection specialists.
Other education repositories
There are also repositories that have been created to place and re-use learning materials. There are 2 types:

general, with materials on different topics
specific, with materials on 1 topic
A collection specialist from the library can show you how this works.
A summary of repositories is to be found on www.robertschuwer.nl. You can search in all the repositories that are listed in this list by using the bar below.
Question
What places do you use to find learning materials?
Question
Which websites do your colleagues use to find learning materials?
Example from the medical domain
In the medical domain, there are various Dutch access points to find relevant educational content. Nurses and nursing-lecturers work together to build up a high-quality collection of open educational resources (in Dutch) that matches the educational profile of the bachelor degree program in Nursing. As the collection matches the educational profile, materials are widely applicable and easy retrievable. In addition, they made agreements about what are good materials for them and assess all the materials according to their own quality model (in Dutch).
There are over 1150 medical e-learning applications on www.medischonderwijs.nl (in Dutch). The content is still widely used in the daily practice of medical education in the Netherlands. If you are specifically looking for anatomical images, you can go to anatomytool.org. Here, the entire human body is shown from the inside out.
Step 2. Assess
Next, you will assess the material found. Is the material usable and what can you do with it?
Is the material usable?
As a lecturer, assess the quality and applicability of the material. Does it fit with the goals and form of your teaching? If you have material from a repository with a quality mark, this indicates that the material meets the requirements of that community.
Perhaps your own professional community has developed a quality model. This allows you to assess the quality of the materials found.
Quality
A quality model is a list of criteria with which learning materials must comply if they are to qualify as 'suitable for purpose'. Within an educational institution or a professional community, you may opt to collaborate in creating such a quality model so that it is simpler for lecturers to share and re-use open learning materials. Having a quality model for open learning materials ensures that lecturers' confidence in open learning materials will grow. It ensures that they have a way to evaluate their own materials and provides guidance when it comes to assessing others' materials.
Wish to create your own quality model? Then go through the steps of the Roadmap Quality assurance of open educational resources.
What can you do with the material?
Regardless of where you obtained the material, you should first check the licence on the material.
If the material is not licensed, you may not use it. You can, of course, ask the owner for permission. You can always insert a link to the material or embed the material because then you are referring to the source.
If the material does have a licence, you can see exactly what is and is not allowed (see 'What are open educational resources?'). For a Creative Commons licence, there are the following options:
Attribution - materials with these licences may be used as such. You have to mention the name of the creator. 
NonCommercial - materials with this licence may be used in this way in your teaching, provided that this is not a commercial educational program. 
NoDerivatives - You may only use the work as it is (as-is). It is not allowed to edit it.
ShareAlike - if open sharing is not allowed by your institution then you are not allowed to use materials with this licence.
In the case of material from commercial providers, you will probably have to pay for the re-use (in Dutch). Ask your library about the rules within your institution. 
Step 3. Adapt
If you adapt open educational resources for your own teaching, you must provide them with a source reference. If you share it again, you have to provide it with a licence.
Source reference
Material with the Public Domain licence may be used without restriction and without referencing the source.
For resources with other licences, you need to add a reference to the source of the element. Add at least:
author
year of publication or date of visit website
title of the source
link to the source
Sources
1. Richtlijnen APA-richtlijnen uitgelegd (APA guidelines - guidelines explained) - 2018
A practical guide for referencing sources in higher education – in Dutch
SHB (Partnership libraries Universities of Applied Sciences) and SURF have created a manual for referencing sources in higher education.
2. Zoeken en inzetten van open of auteursrechtelijk beschermd materiaal in (online) onderwijs (Searching for and using open or copyrighted material in (online) education) - 2019
Roadmap for finding, checking and using Open Educational Resources in the medical sector – In Dutch
This roadmap can help if lecturers in the medical sector want to work with open educational resources. It can also serve as an example for other sectors.
The roadmap was developed by Claudia Pees, Paul Gobée and Nathalie de Bruycker from the LUMC/Leiden University.
Licence
If you are going to use the existing or collated learning materials in your own teaching program, think carefully about the licence. Check with your institution's library to see which licence your institution prescribes. (See 'What are open educational resources?').
A few tips:
The advantage of CC-BY over CC0 is that you can see which experts/institutions have contributed to the work. This can help with the quality assessment.
Choose ShareAlike, because then your work will remain available for the whole world once you have adapted it.
It is better not to opt for NoDerivatives because then your work cannot be adapted and appropriated.
But what if you use different sources with different licences in a single document? Which licence should you choose, how should you reference it?
You can take over the source's licence for each component and therefore also provide a licence for each component.
If you want to apply 1 licence to your work, you need to put all licences side by side and assess what is possible. For example, if one source prescribes that the material may not be used commercially, then your composite product may not be used commercially either. Consult with your library copyright specialist to determine which licence your work needs.