SURFmarket is the prime IT marketplace for education and research. Thanks to SURFmarket, students, lecturers, researchers and staff can take advantage of the best-available conditions for purchasing software, cloud services, digital content and more.
Freedom and responsibility
At SURFmarket you will be given a lot of freedom and responsibility. You will be part of a team of 50, generally young, people. We are doers: practical, market-oriented and focused on results. If you come to work for us, you will contribute to our main goal: supplying reliable, secure, affordable and easy-to-use software, cloud services and scientific content to our customers. They purchase these products and services through our portals My SURFmarket and SURFspot, and the HBO Knowledge Base.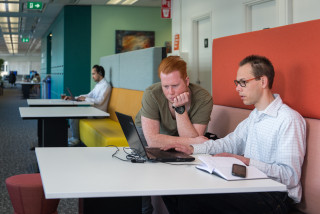 Vacancies
Getting started at SURFmarket
The main principles underlying working at SURFmarket are:
Freedom, trust and responsibility
You are given extensive freedom to organise your own work, trusted to make your own choices and held responsible for what you do, create or say.
Combining work and private life
Along with freedom, trust and responsibility, you need the space to make conscious choices and find a good balance between your work and private life. We give you that space: we believe people perform better if they are allowed to alternate freely between work, care or relaxation.
At SURFmarket, the customer always comes first. It is therefore important that you are a good listener and service and solution-oriented.
Work placements at SURFmarket
Would you like to gain work experience with us? That's possible. You can do a work-experience placement or conduct research. We will provide a great work atmosphere and support; all you have to do is think of an interesting final project!