Introduction to open educational resources
Developing learning materials is time-consuming and expensive. There are many benefits to be gained if you work together. By using other people's learning materials, you can enhance your own teaching. This Introduction to open educational resources (OER) explains what OER are, how you can use them , and how you can structure your own materials.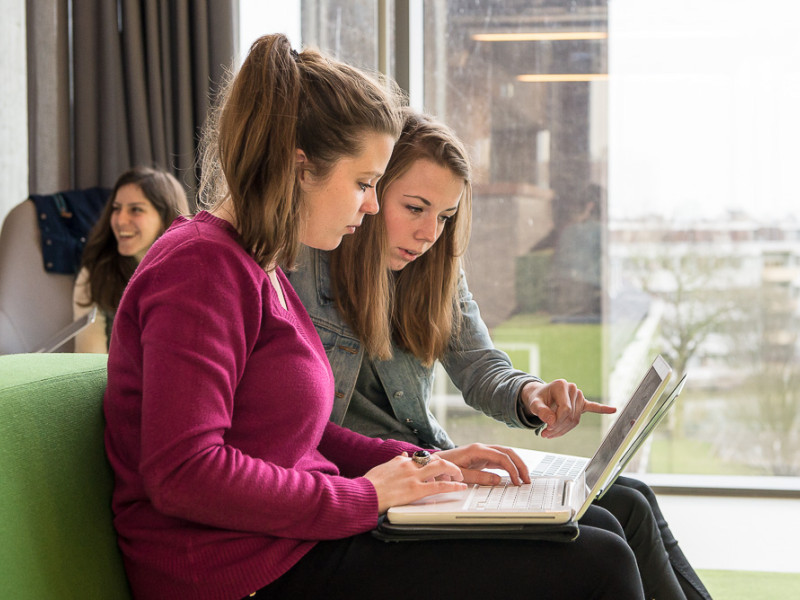 What are open educational resources?
Find out what we mean by digital educational resources, and which licences you can use to share resources.
1. Digital learning material
At SURF, we use the following definition of digital learning materials:
Creative work used for educational purposes, such as texts, images, sound or video, which are available digitally. These are materials that lecturers offer to a student or materials that the student independently finds and uses in his or her studies.
Educational resources can consist of separate materials, such as web lectures or articles, but also of a compilation of different materials, such as open courses. Anything you use within your educational context/learning process can be seen as learning materials.
Source
Towards a definition of learning materials - 2019
Robert Schuwer Blog
In this blog, Robert Schuwer explains the definition of 'learning materials' and what should be taken into account. It is difficult to come up with a precise definition. When talking about 'learning materials', emphasise the assessment of the materials. Use a quality model or check for the added metadata. This allows you to assess whether the materials are of value for your own teaching.
You can exchange learning materials informally with your colleagues and acquaintances, or formally share them via a storage system or repository (see Using other people's open educational resources). Formal sharing is the best way to allow more lecturers to use your resources. This way you can increase the reach. Sharing can be semi-open (only within your institution) or open. If you share it openly, you share it with the whole world. There are no restrictions on the form of the learning materials. 
A repository is a freely accessible database, a digital archive for open educational resources. The following standardised types of learning materials can be found in repositories where you can store and find learning materials:
Information source: knowledge clip, vlog, blog post, presentation, book, article, document, image, infographic, etc.
Closed command
Open command
Evaluation and testing materials: quiz, test, test question
Study/research material
Manual
A repository also contains metadata about the materials. Metadata are data that describe the characteristics of learning material, such as the author, level of education, subject area, file format, etc. As a result, the materials can be found by users and the repository complies with international standards for data exchange.
2. Open educational resources
If you wish to formally share your learning materials, then it is useful to record your permission for re-use. You can do this individually or in advance for everyone. SURF uses the following definition for materials which you share openly, open educational resources:
Digital learning materials published under an open licence, such as Creative Commons. Such a licence allows users to copy, (re)use, edit, rearrange and distribute the work. This material is referred to internationally as open educational resources (OER).
Internationally, people often talk about the 5 Rs of David Wiley when it comes to using open educational resources:
Retain
Reuse
Revise
Remix
Redistribute

Save
Identical re-use
Re-use with adjustment
Reorder and rearrange
Share again
Open licences
Learning materials that you make yourself are your or your employer's/institution's property and no one else is allowed to do anything with them without asking. They are subject to copyright.
If you create learning materials while you are employed by an institution, then your institution has copyright according to the law and the collective labour agreement (CLA). If you want to know all about the ins and outs of copyright in higher education in the Netherlands, please consult auteursrechten.nl/en. The contact details of all the Copyright Information Points at higher educational institutions can also be found on the Dutch page of auteursrechten.nl.
Copyright in educational institutions
Many higher educational institutions have their own websites in which they explain copyright. For example, on the sites of the NHL Stenden University of Applied Sciences (in Dutch), Utrecht University and the VU Amsterdam (in Dutch). You will find materials to assist you on these websites.
On the Utrecht University website, for example, you will find a clip explaining how the copyright of knowledge clips is organised. The explanation in this video is not only relevant for when you make a knowledge clip, it also applies to other learning materials.
If people wish to use your material, they have to ask you or your institution for permission. It is therefore more convenient for you, as the rightful copyright holder, to state that your material may be re-used. Then the end-user does not have to ask for this each time. Prior consent for re-use is possible via an open licence. The most commonly used licences are the Creative Commons licences.
Question
Does your institution precribe a Creative Commons licence?
3. Creative Commons licences
Building blocks of the licences
Creative Commons licences are built around 4 building blocks. These building blocks propose 4 conditions of use, which can be combined into 6 different licences. 
These are the 4 building blocks of the Creative Commons licences:
Attribution.

You allow others to copy, distribute, display and perform the work, for which you hold the copyright and to create derivative works based on your work – but only if you are listed as the creator.
NonCommercial.

Others may copy, display, distribute and perform your work, as well as material based on your work, provided it is not for commercial purposes. This way regular education is allowed to use this. However, commercial education or training programs may not use this material.
NonDerivative.

Others may copy, distribute, display and perform your work provided it remains in its original state. It is not allowed for others to use your work as a basis for new material.
ShareAlike.

You allow others to create material derived from your work under the condition that they release it under the same licence as the original work.
In addition to these 6 licences, there are 2 other labels, namely:
Public domain dedication (CC0)
Public Domain Mark (PDM)
These are not licences, but ways to make clear that you wish to renounce your copyright completely (CC0) or that the work concerned is not (or no longer) subject to copyright (PDM). If the copyright has been renounced, a disadvantage is that you can no longer see from which (reputable) person/institution the work originates.
Summary
If your institution does not have a copyright policy, the copyright on the work that you create in your position rests with the institution. At the other end of the spectrum is the public domain, which is a complete renunciation of copyright. In between are the Creative Commons licences that allow re-use and redistribution under certain conditions. It may be that your institution has a policy on this or will develop one in the future.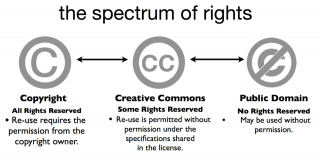 Creative Commons at SURF - 2016
There is also a policy on the use of Creative Commons by SURF employees. Take a look at the checklist and the manual for inspiration if you wish to introduce Creative Commons licences in your own organisation.