SURFnet enables students, lecturers, researchers and staff to work and collaborate easily and without boundaries by providing access to the best-possible IT facilities. To this end, we provide a super-fast and reliable network with innovative, high-quality IT services.
The best network for education and research
At SURFnet, innovation knows no bounds. Although we supply extremely innovative IT services, we make sure to never rest on our laurels. Our 100-strong team is constantly working on the further development of our services and brainstorming new ways to improve the network: how can we make it even faster, more reliable and more stable? Of course, we do this because we enjoy being at the cutting edge of current technology, but more importantly, because we want to ensure that our users in the world of Dutch research and education have access to only the best IT resources.
Vacancies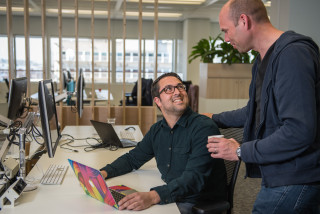 Getting started at SURFnet
The main principles underlying working at SURFnet are:
Working in an ambitious but informal environment
You are 100% committed to the innovative services of SURFnet. At SURFnet, we don't care if you come to work in trainers or a suit and tie!
Gaining and sharing knowledge
At SURFnet, you will be given every opportunity to acquire new knowledge, for example in the form of training programmes. And you will also share this knowledge, for example by giving presentations at a conference, allowing you in turn to share what you have learned with colleagues and other experts in your field.
Internship at SURFnet
At SURFnet, you do your internship or graduation research in an ambitious but informal environment where you have plenty of opportunities to develop your own talents.
See our student assignments opportunities