HPC Cloud: your flexible compute infrastructure
HPC Cloud gives you and your project team complete control over your computing infrastructure, via SURF Research Cloud. The infrastructure ranges from a single work station to a complete cluster and can be expanded to suit your needs. You can use a variety of operating systems and analysis software. HPC Cloud is housed in SURF's own data centre.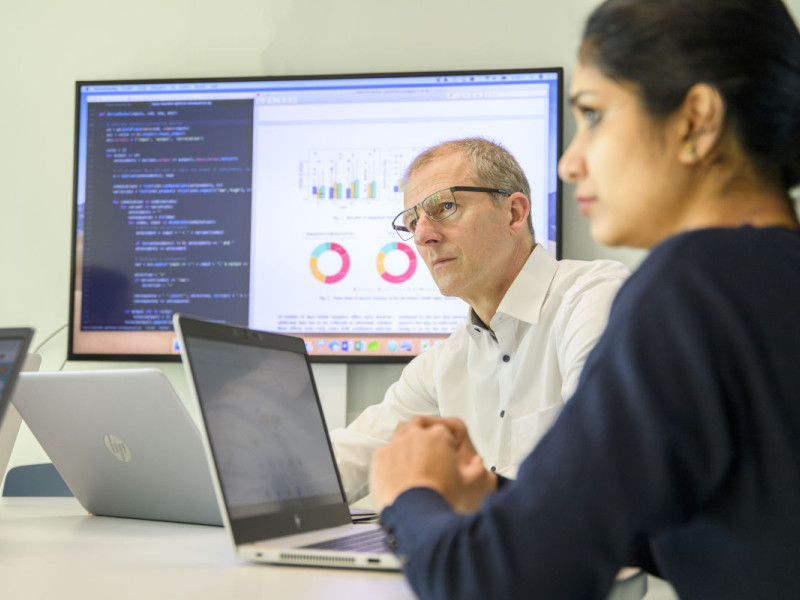 Flexible environment
HPC Cloud enables you, as a user, to control the computing environment you are working in. This applies to both the operating system and the analysis software. This means that you can adapt the environment to suit the software you are using for your research, such as a relational database, a remote desktop or an application server. This is a major advantage over most other infrastructures, which often impose restrictions on operating systems and software.
From work station to cluster
HPC Cloud can be accessed quickly. With just a simple request, you will be given direct access to computing capacity. As a researcher you can work with a single, heavy-duty work station, which simplifies management. Alternately, you can set up a complete compute cluster enabling you to expand the available computing capacity quickly and easily to accommodate peaks in the demand for computing capacity.
Fast processing and storage
HPC Cloud provides you access to multi-core processors for multi-threaded applications and a fast network for distributed memory applications. Fast storage facilities are available for data-intensive applications while bulk storage facilities can be used for very large data sets.
Secure collaboration
You fully control your own environment. You can therefore opt to offer it to your team as a collaborative platform for sharing data. Each team has its own network, you decide who has access. This means that no unauthorised persons will have access to your system or network, enabling you to share data safely with your fellow team members - and no one else.
Case examples
In recent years researchers have discovered that the HPC Cloud service enables them to flexibly expand their own computing facilities. Examples of their projects are:
Complete support with our additional services
If you use this service, you may also be interested in the following services:
Consultancy: independent advice
Our consultants support you from the first analysis of the problem to the final implementation. They provide independent advice on, among other things:
submitting jobs
methods for approaching your data
design and optimisation of your own software
the exact design of your data storage system
how to organise your data infrastructure
how to make optimal use of our computing and storage facilities
integrating your virtual infrastructure into your work processes
optimisation of applications
running your software in parallel for faster processing.
Depending on the size and complexity of your question, you will receive a customised proposal. For more information, please contact our consultancy service.
Long-term storage of research data
HPC Cloud is connected to the central archive of SURF. This archive offers you extensive options for storing your research data. In addition, you can also use the PID (Persistent Identifiers) service on data that is stored on SURF storage services, such as Data Archive. Do you want to store your data securely over long periods? Then make use of our Data Archive service.
Visualisation: immediate insight into your results
Do you work with computations that produce large amounts of data? Then you could use our visualisation techniques and support. Visualisation helps you to better interpret the results of your computations.
Send data quickly with SURFlightpaths
Do you want a fast and reliable connection from your own network to our systems? With your own lightpath, you can very quickly send data to and from the HPC Cloud. A light path is a direct connection that is shielded from the internet. It is extra secure, reliable and suitable, for example, for privacy-sensitive information. The biggest challenge with these light paths is to connect them to the systems on both sides. We will help you by bridging the final metres between the end point of a light path and your data sources.
Technical specifications
Technical specifications of HPC Cloud (December 2018)
| | |
| --- | --- |
| Virtual machines | up to 80 cores with 480 GB RAM |
| Hardware | 30 nodes with 32 to 40 Intel processors at 256 GB to 480 GB RAM |
| Shared storage | x 3 redundancy to prevent data loss caused by hardware failure, on 10 Gbit network per storage node |
Extra memory for large data sets
Besides the normal nodes, you can also use high memory nodes with a memory space of up to 2 terabytes. The high memory nodes are very suitable for analyses in which complete data sets must be loaded into the working memory. You can request the desired memory by making a reservation on the high memory nodes in blocks of 0.5 terabyte. For the high memory nodes you can also make use of the shared storage space on our HPC Cloud service.
Storage and back-up
Data are stored multiple times to minimise the risk of loss. To archive your data you can use the SURFsara Data Archive service. HPC Cloud features a fast network connection to this archive. SURFsara does not make any automatic backups of data located in HPC Cloud. You are personally responsible for making backups of files.
Support and consultancy
As a user of HPC Cloud you can always approach us for assistance. You can consult our standard documentation to set up your own infrastructure. We also offer a training course where you learn how to run your own virtual machine.
If you have any questions or problems, please submit them via the servicedesk portal, per email (helpdesk@surfsara.nl) or call +31-20-8001400. The helpdesk is available during office hours (9:00-17:00).
Rates
You can find the rates for this service in the SURF Services and Rates brochure (PDF)
More information and contact
More (technical) information on the HPC Cloud service can be found on the pages with user information about HPC Cloud. Interested in learning more? Contact us via info@surf.nl.