Research Drive: securely and easily store and share research data
Does your research team need large storage quotas, and work collaboratively with other educational and governmental institutions or external private parties? Research Drive is a cloud-based shared-storage environment specifically designed for these requirements.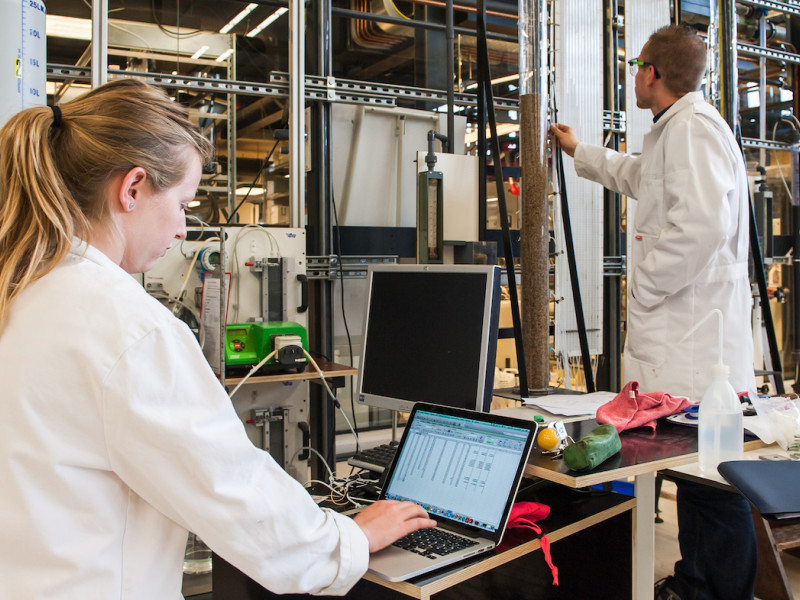 One view on data
Research Drive enables smooth access to multiple storage environments and creates one view on data. In other words: the service offers the possibility to connect to various external file systems, such as local file servers, SURFdrive, Object Store, Dropbox, and Google Drive, whilst accessing the total environment from one common workspace. Hence creating a complete storage eco-system for researchers. The service will also offer a connection to common data science tools and applications, such as R-studio.
Safe and structured data sharing
The research community has an increasing need for data sharing in a safe and structured manner. This is because of the globalized nature of their work and outreach of the community, where interoperability and flexibility is required to accommodate hybrid scenario's.
Data stewardship
Researchers access the service through a user-friendly interface. Institutes and researchers that are using other SURF services can use the same credentials for Research Drive. For institutions and large research projects where own branding is required, we offer a fully hosted institutional instance with the autonomy to configure the environment to your own requirements. A data steward is responsible for managing and creating folder structures, user access, and determining quotas within his/her allocated environment.
Practical examples
Fresh Light on Van Gogh
Why do some colours in Vincent van Gogh's paintings gradually change, and what can you do about it? That is what the Van Gogh Museum is trying to find out together with ASML and various scientific institutions. To store, share and process the data, they collaborate in SURF's Research Drive and Research Cloud.
Immuno-wars: attack of the clones
In the autoimmune disease rheumatoid arthritis (RA) the immune system is attacking our own body. Bioinformatician Barbera van Schaik (Amsterdam UMC) developed data analysis methods to characterize specific immune cell receptors. This makes it possible to identify disease-specific T cells that may be targeted to temper the immune response in RA.  
Collaborative environment with personalised look & feel for Saxion
Research groups within Saxion University of Applied Sciences can store and share large and small data sets using Research Drive. It will also make collaborating with companies and end users much easier. In order to make it easy to find and recognisable, Saxion offers the service with its own look and feel.
Rates
You can find the rates for this service in the SURF Services and Rates brochure (PDF)
Request access
To request access to this service, please contact us via the service desk
Are you already using compute services at SURF, such as HPC Cloud, Lisa or Snellius? You may be able to use this service via a subsidised 1 year e-infra contract. To apply for this please complete the resource request form. We will then assess your request and will let you know if you are eligible.
More information
More (technical) information can be found on our user website
Privacy
At SURF, we are committed to protecting your privacy and personal data. SURF only processes personal data at the request of the data controller. The personal data will only be processed in the Netherlands. It will not be transferred to third parties without explicit consent of the data controller, or unless required under applicable law.
Appropriate security measures
Furthermore, we have established organizational policies and procedures to match GDPR requirements and the CIA principles: confidentiality, integrity and availability. In this regard we have implemented appropriate security measures, including encrypted transport with SSL encryption. Users are informed of means to encrypt their files when at rest. To further the integrity, Research Drive will support 2-factor authentication in the near future. Regarding the availability, the infrastructure is subjected to periodic security audits and pentests, during which compliance with the GDPR is validated.  In addition, the underlying operation systems of Research Drive are checked on a daily basis for viruses, rootkits and malware.
For more (general) information about SURF's commitment to protecting your privacy, see our Privacy statement.
Data processing agreement
SURFsara has a model data processing agreement (DPA) in which the processing objectives, responsibilities, and technical and organisational measures (TOMs) have been set out. 
Download SURFsara data processing agreement (pdf)