SURFinternet: fast and reliable internet connection
SURFinternet offers Dutch education and research institutions a fast and reliable Internet connection of 1 to 100 GBit/s. With SURFinternet, all users in the education and research communities are connected to each other and can collaborate nationally and internationally.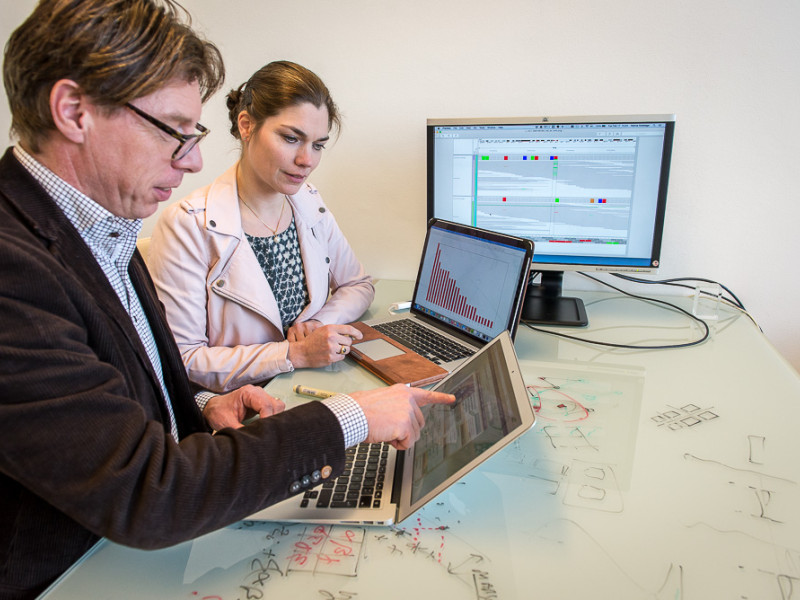 Stable, expandable Internet
SURFinternet offers your institution high-quality, stable, safe Internet access which is always available. SURFinternet can be flexibly expanded, so you always have enough bandwidth for collaboration projects between educational institutions, data-intensive research projects or other IT applications, for example.
Superfast, redundantly configured network
When you use SURFinternet, your institution will be connected to SURF's superfast network. This guarantees a high level of availability. SURFinternet offers a number of connection models with different types of fibre-optic interfaces and routing protocols.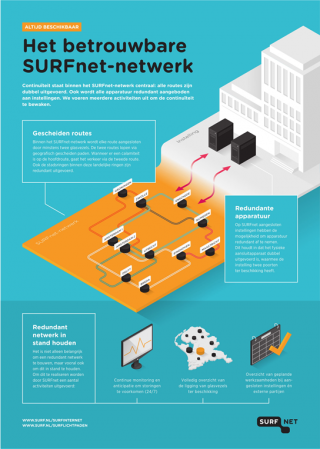 Support in the event of faults and security incidents
After purchasing SURFinternet, you can rely on 24-hour support for network management. You can contact our SURFnet Helpdesk to report faults and operational activities. If you have a query about ongoing changes (or incidents) which already have a ticket number, the SURFnet NOC will provide you with assistance. Within SURF, the Network Management Expert Team is responsible for complex network management and special projects on the network.
In addition, the SURFcert team will provide your institution with 24/7 support in the event of security incidents. This part of the service is a standard feature of SURFinternet and is included in SURF's basic fee Infrastructure.
Optimum connectivity with education and research
SURF provides a fast connection to international education and research institutions, through network connections to the pan-European education and research network GÉANT and NetherLight, but also through a number of Internet Exchanges, such as the Amsterdam Internet Exchange. This enables online collaboration with partners all over the world, even when large volumes of data are involved.
More than just Internet access
When you purchase SURFinternet you can also use a number of other services which are part of SURF's core package, such as:
Rates
This service is part of the basic fee Infrastructure. Bandwidth upgrades will be subject to additional charges. You can find these charges in our SURF Services and Rates brochure (PDF)
Apply or find out more
Ready to purchase SURFinternet? Please contact SURF Customer Support at customersupport@surf.nl.