SURFwireless: Wi-Fi as a Service
Your users want a fast Wi-Fi network that is available anytime and anywhere. Purchasing and maintaining such a network takes a lot of time and knowledge. SURFwireless offers Wi-Fi as a Service. This provides you with a reliable, high quality Wi-Fi 6 network, allowing you to move forward technically for years to come.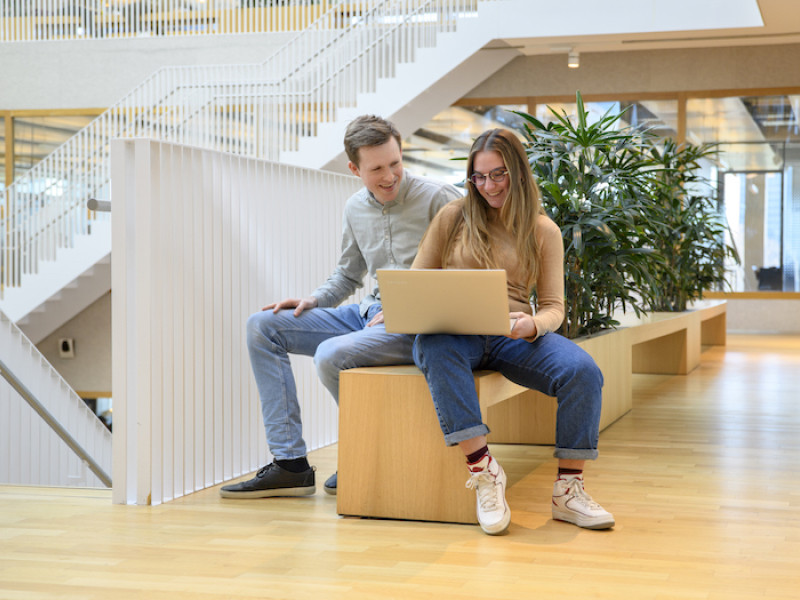 Wi-Fi available anytime and anywhere
Students, teachers, staff, researchers and visitors expect a Wi-Fi network that always works, is available everywhere and offers high speed. Providing such a network is complex. The Wi-Fi network needs to connect to more and more different types of mobile devices and users expect the latest wireless capabilities.
SURFwireless: Wi-Fi as a Service 
With SURFwireless you have Wi-Fi as a Service. The SURFwireless team will take care of the purchase, keeping expertise up to date, maintenance, monitoring and even the procurement of your Wi-Fi network.
You remain closely involved in the Wi-Fi network. You are responsible for the installation of access points, first line support and for the provision of the LAN. With SURFwireless, we provide customisation: we tailor your network to the Wi-Fi needs of your users. For instance, separate networks for research equipment or different groups of users. 
SURFwireless Start: Manage existing network
We can also manage your existing Wi-Fi network while your new SURFwireless network is under construction. That's SURFwireless Start. In this way, we relieve you of the burden of Wi-Fi and ensure a smooth migration to the new SURFwireless. A good example of this is the Groningen Forum. The rates are set per project.
SURFwireless Managed: a flexible rate per access point, per month
The fee for SURFwireless Managed depends on the size of your institution/the number of access points that you purchase, the contract period, and the total volume of SURFwireless. The fares are in effect for 2022.
Base rate
EUR 26 per month, per indoor access point (excluding VAT)
EUR 47 per month, per outdoor access point (excluding VAT)
This includes the costs of hardware (replacements), personnel, licences, tendering, and 24x7 monitoring and maintenance. Wi-Fi 6 applies as a new standard. It allows institutions to go years ahead technically and also allows for a longer contract period.
You receive a discount on this basic rate. The more access points you purchase, the higher the discount per access point.
Discount based on the number of AP's at your institution

| | | | | | |
| --- | --- | --- | --- | --- | --- |
| Number of APs | < 250 | 250-500 | 501-750 | 751-1,000 | > 1,000 |
| Discount per AP | EUR 0 | EUR 1 | EUR 2 | EUR 3 | EUR 4 |
Discount based on the number of APs managed by SURFwireless
Total number of APs at SURFwireless
(now: < 4.000)
< 4,000
4,001-7,500
> 7,500
Discount per AP
EUR 0
EUR 1
EUR 2
Discount based on your contract period

| | | |
| --- | --- | --- |
| Contract period | 4 years | 5 years |
| Discount per AP | EUR 0 | EUR 1.50 |
Price example
As an example, we take a medium-sized college with 800 indoor access points and a 5-year contract. The basic rate is EUR 26. Thanks to its size (the number of access points), the institution receives a discount of EUR 3. Because of the 5-year contract period, there is an additional discount of EUR 1.50. That makes the rate: EUR 21.50 per access point, per month.
Innovation within SURFwireless
We are continuously working on the (further) development of SURFwireless. We are looking into possible extensions of the service such as wifi calling, location-based services and private pre-shared key.
Connecting
To get connected to SURFwireless, we follow 5 steps:
Kick-off
Site survey
Discuss design
Installation
Aftersurvey
Want to go through the steps in a little more detail? Then have a look at our handy info graph here. (in dutch)
For whom?
SURFwireless is available if your institution is connected to the SURF network. SURFwireless is purchased per building (location), so that your users do not experience problems with roaming.
More information
Read more technical information about SURFwireless on our wiki